The shift from head to heart is not novel to human resources, but construction, a big and bold industry in many respects, has been slow to recognize the value of soft skills. In many cases, it has been even slower to shed the antiquated approach of authoritarian leadership. This changed last year when COVID-19 forced leaders to take extraordinary efforts to keep job sites not just physically safe, but psychologically safe.
For many of us, the magnitude of the coronavirus crisis resonates with experiences like 9/11 or the 2008 financial crisis — events that reshaped society in lasting ways, from how we travel and eat, to our rapport with government and global dynamics. It also remade the relationship between employer and employee.
There are the tangible on-site mandates of mask-wearing, added hand washing stations and daily check-ins. Moreover, subtle suggestive shifts, such as: welcome gestures, the revaluation of personal and professional priorities, and subsequently, leadership styles.
Over the last year, there have been stories and statistics on countries led by women and how they have been particularly successful. The time it took to flatten the curve, death rates and civic optimism are a few favourable metrics. These leaders exemplified an alternative way of manifesting influence, control and ultimately uniting their citizenship. A New York Times article on the topic deduced the takeaways of their leadership to be the following: honesty as exemplified by Angela Merkel of Germany in her truthful speech informing her nation that 70 per cent of the population could be infected; decisiveness shown by Jacinda Arden and her expeditious decision to lockdown New Zealand much faster than most countries; and as cliché as it sounds, love, exhibited by Norway's prime minister Erna Solberg and her innovative idea of using television to communicate directly to her country's children.
Without a pandemic playbook, I personally looked to global leaders for insight on effective management of our approximately 450 employees during the crisis. Recognizing that we were not just navigating professional hardship and uncertainty, but both deeply personal and psychological experiences — these women leaned in with their heart. The traditional top-down leadership approach was not sufficient in politics, nor was it up to the task of guiding staff through the uncertain early months of the pandemic.
At Mott Electric, we had hundreds of employees retreat to the safety of their homes, and hundreds who never missed a shift. It was a dichotomy that was respected as we implored our teams to do what was best for them and their families, reassuring them that the choice was theirs, and we would do everything we could to ensure they had an employer to come back to.
The chaos and concern which ensued could have been catastrophic, but we calmly and collectively endured. How? After safety being of paramount priority — always in our industry — it boiled down to honest, frequent and sincere communication. More specifically, we implemented daily meetings across the entire management team to discuss not only safe work procedures, but morale and mental health as well. This ethos was modelled from the top down as we shared in each other's fears, moments of optimism, and all the other high highs and low lows of the corona-coaster.
Although, I believe transformational leadership occurs across the entire gender continuum, there have been socially constructed strengths and areas for improvement under the traditional binary expectations. Our lives became more complicated than ever, and we needed dynamic and genuine capacity across leadership to navigate these uncharted challenges.
With men making up 85 per cent of the leadership team at Mott Electric, we wanted to ensure the technical skills that promoted them to these ranks were complimented by a social tool kit for the task ahead. We reacted by integrating immediate formal education around softer skills, self awareness and interpersonal management. This included but is not limited to: Brene Brown Dare to Lead Webinars, Psychometric Personality Profiles (Insights Discovery) and customized courses for communication through unprecedented experiences and environments. This mandated edification enhanced a deeper understanding of our colleagues at an individual level through personality profiles and associated behaviours. Moreover, it improved our unity as a leadership team, and as a company across respective departments. EQ first, IQ second was a healthy pivot for us, and ostensibly, the construction industry long-term.
Women may have been the first adopters or naturally inclined to empower this ideology, but the statistics are supporting a business case that can't be ignored. Harvard Business Review collected data pre-pandemic that indicates employees were more engaged when reporting to females. They extrapolated this insight to review competencies ranked important during crisis including interpersonal skills such as: inspires and motivates, communicates powerfully, collaboration/teamwork, and relationship building — all of which women were rated higher on. Furthermore, recent studies conclude soft skills training delivers a 250 per cent return on investment. These results are compelling enough to argue: Can we afford not to adapt and evolve leadership within an industry with increasing costs, labor shortages and limited gender diversity?
With women representing only three per cent of leadership in our industry — whether it is superintendents on job sites, or executives in the boardrooms — we must all be cognisant of the tools we choose to manage and motivate. We may have had the choice before, but it is now an imperative. Now, the workplace represents a community, not just a paycheque. The pandemic requires us to redesign the economy, rethink our obsession with growth, share research and learning, and redesign everything to put people, not profits, first. Soft skills have always been essential in the construction industry because they are directly tied to safety and efficiency. COVID provided the impetus and evidence for a change that has been a long time coming. Construction supports our economy, and employees support our organizational objectives, so we in this industry must face a critical choice: embrace a shift in philosophy today, or be rendered irrelevant tomorrow.
---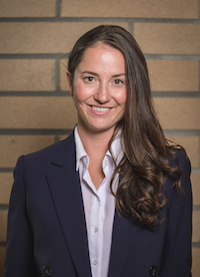 Ellisha Mott is vice-president of Vancouver-based Mott Electric, a fourth generation family business founded nearly a century ago. She sets the strategic direction and vision for the company, a task that includes contemporizing the electric contractor's employment and diversity standards. Prior to her current role, Mott oversaw the rapid expansion of the company's fibre optics division, growing it from three to roughly 150 people.
Outside of her organization, Mott has been recognized by the Women's Infrastructure Network as one of the Top 5 Emerging Leaders across Canada, and by On-Site and SitePartners as among the 40 Under 40 in Canadian Construction. She concentrates her efforts on improving skilled labour diversity training within the industry, creating a Training and Legacy Fund which offers a Women in Trade Bursary program in B.C.