Article
Telehandlers: A little give and take
---
Print this page
---
December 1, 2015 by DAVID GODKIN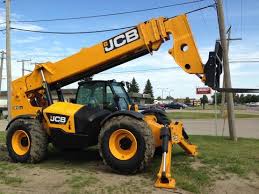 Have telehandlers gotten better over the years? Sure, say contractors. Could they be made even better? We think so, manufacturers tell us. To find out, we looked at one particular class of telehandler common to the construction industry – the 10,000-lb. telescopic material handler. Stability, safety and ergonomics, better repair and maintenance – we wanted to hear what contractors had to say.
Chad Buckley is yard super and "tele" operator at Dell-Core Equipment Inc.'s five-and-a-half acre yard in Bolton, Ont. Buckley routinely uses a Caterpillar TL943 and Genie 1056K telehandler so carpenters have what they need for building forms, walls etc.
"I wouldn't want to do what we do with a straight mast. Once I have to flip walls and stuff like that, we're going up 10, 15 feet high," he says. Most of the materials — lumber, aluminum, concrete, fibreglass — are bundled, stacked and loaded onto 4X4 trucks and shipped to site immediately.
Both the Genie and Cat are inspected every morning, serviced every six weeks and safety certified every year. You'd think that would be enough to keep both machines running forever, but it's not. Buckley estimates that a machine will break down about once a month, often for about a day, usually because of a blown hydraulic hose.
"At 4,000 psi, those hydraulic hoses are vulnerable to hot, highly pressurized hydraulic fluid," he notes.
Juan Molina at AT-PAC Complete Scaffolding Solutions in Edmonton calls the JCB 536-60AG, "a really solid machine," a 10,000-lb. capacity unit well-suited to construction jobsites. It lifts bundled steel beams or palletized materials such as side brackets and jacks three stories high.
Squaring up the material to the load is key, he says.
"If you're off by three inches, you have to pull it back to realign yourself. That can cost you about 10 minutes of work, because hitting that mark is really hard. On a forklift, all you would need is a side shift to move the three extra inches."
"The beauty of telehandlers," says Wally Verhey at Walters Group in Hamilton, Ont., "is they're all-terrain, four-wheel drive, very stable and agile. They're very, very handy."
Verhey's rental JLG 1055A is standard on every job he works on.
One of the biggest challenges running any machine, says Verhey, is the tradeoff between stability and visibility. Some machines have a very low pivot point on the boom which makes the machine very stable. "But then your right side becomes a blind spot…people are getting run over by operators who can't see behind them or beside them."
We asked some of the OEMs to address these issues.
No side shift on Juan Molina's JCB 536-60? Product manager Stuart Fox at JCB's plant in Savannah, Ga. points out that side-shifting carriages are optional on all the firm's telehandlers. When you are 56 ft. up and you've missed your mark, "Instead of bringing your boom all the way back to ground level and repositioning the machine, your side shift carriage allows you to make up for that small margin of error."
The hydraulic hose issue is addressed by David Latour, vice-president, National Sales for Manulift in Montreal. The firm distributes the Italian Merlo telehandler line. He agrees with Buckley that hydraulic hoses are under a lot of pressure and that this can lead to machine breakdown. He disagrees on the cause, though. "The hose doesn't leak, it's the fitting. It's because you've scratched it and damaged it by hitting material."
Skyjack's product manager Barry Greenaway holds the same point of view. "There are no bad materials – only bad applications," he says. If things are getting so hot that hoses are degrading, machine design may also be a problem. In addition to low restrictions in the valves and in the fittings, a well-designed machine "will have correctly sized hydraulic tanks for hydraulic flow in the machine. If you have too small a tank and nowhere to vent that heat to, you'll heat that oil up very fast."
The Gehl RS 1055 has a hydraulic hose tray positioned at the side of the boom rather than through the boom, notes Steve Kiskunas product manager, Telescopic Handlers at Manitou Americas. This allows "for quicker replacement of the hoses if there is a failure," he explains. "It also avoids damage to the hoses from the moving components inside the boom, the chains, rollers and bushings."
What about the problem of blind spots? It depends on who you talk to. Anders Mantere, Genie's telehandler product manager, points out that the more boom sections on a machine, the higher it is able to reach. Problem: that high-pivot boom may also make it more difficult to see beneath or around you. "Our breaking point came at the 1056 level. With a 1056 and higher pivot point, you can still see around you well. But we started looking at our 12 K and 15 K, and as the boom sections became larger, we went to a low-pivot boom so you are effectively looking over the boom."
JLG took steps to improve sight lines on its boom, as well. The dual compensation and lift cylinder on its 642 to 1255 series telehandlers "is a good design from a speed and capacity perspective," says product director Brian Boeckman. Earlier this year, however, it introduced a single cylinder for the lift, and then relocated the telescopic cylinder to the top of the boom.
"This allowed us to get a good-sized package to the boom sections, and improve visibility as well," says Boeckman. "The ability to look under the boom provides good visibility on the right side for transport and pick-and-place"
Also in terms of visibility, Buckley suggests that manufacturers steal a page from Greyhound Bus – install wrap-around mirrors at the front of the cab.
A good idea? It just might be, says Fox.
But JCB has another solution of its own: put the hydraulic tank at the rear, with a cut-out at the back providing access to the tank, but also greater visibility. "When the operator is looking over his right shoulder, he can actu­ally see through to the rear of the machine, which minimizes the chance of an accident when moving in reverse."
Sometimes the solutions are even more obvious. Skyjack's newer and narrower chassis "creates a much smaller blind spot," says Greenaway. "From the operator's seat, without even looking in the mirrors, you can see the tops of all four tires. That's not the case on most units out in the field."
Give me a "meat and potatoes" kind of telehandler. That is what Greenaway hears from most of his rental customers and is what Skyjack is mainly focused on giving them – cloth-covered, mechanical suspension seats and air-conditioning only where required (e.g. Ontario in the summer). Otherwise, open cabs are just fine. "It's also a lot of money to add all that on to the machine," says Greenaway.
Kiskunas cites Manitou's Gehl RS 1055, a rental "utilitarian" product for more rugged terrain and without "a lot of bells and whistles." That's as opposed to its higher performance DL1155 telehandler
. Given a choice, North American contractors prefer a simple machine to the more complex, argu­ably more efficient European models, he says.
That might not last long, however. A good example is the telehandler engine, says Kiskunas. "Unfortunately, the days of being able to fix your diesel engine with a screw­driver are over," says Kiskunas. "Computer controlled engines is where the technology is going. We're not going to go backwards."
Even the most sophisticated technology means nothing, however, if your engine and other components are constantly getting banged around, a problem more common to North American made machines, says Latour. Telehandlers on this side of the ocean "would be a lot better if they "didn't have a lot of exposed hoses." On the Merlo telehandler "all the hoses are hidden."
Fox was in Europe recently and he saw something else which hasn't caught on in North America, yet. "What I can see in the future for North America is the rotating telehandler," he says. "Rotos" essentially allow you to handle a telehandler at 360 deg. cab movement without moving your wheels, says Fox.
"This would minimize the need for a crane on the job site, which typically is more expensive, requires certified operators and a spotter. The Roto telehandler would only require the machine operator."
That operator has to be comfortable too, says Kiskunas. But while air-ride systems are standard on some Manitou telehandlers, he says some owners worry that operators will actually get too comfortable, and "not treat the machine with care and caution." Instead, North American manufacturers typically focus on getting the operator in and out of the machine easily.
"The cabs are going to be more functional than stylish." he adds.
Genie's North American designers work closely with their Italian counterparts "to leverage the things we learn in a different market," says Mantere. That could be as simple as selecting a hydraulic valve or as complex as designing an electronic circuit. Ditto the European operation's tough, steel-protected front and rear lights. But interestingly, not everything about its European design fits the North American market, says Mantere.
"We're actually going to change the lights on some of the machines they're bringing over from Italy to mimic our U.S. design." That simple change will affect both the strength and aesthetic appeal of the telehandlers lighting systems, says Mantere.
________________________________________________
David Godkin is a B.C.-based freelance writer and editor.
---
Print this page
---
Related
Sponsored