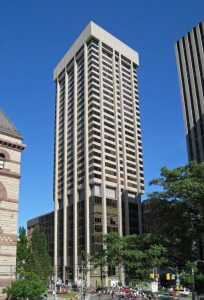 CINTEC North America, designer and manufacturer of the CINTEC Reinforcing Anchor System, helped restore the Simpson Tower, a famous Canadian landmark, and one of the tallest buildings in Toronto.
WSP Canada Inc., the structural and facade engineering consultants for the over-cladding of the Simpson Tower, worked with CINTEC, and construction manager D.F. Pray for the pre-construction and construction phases for the project.
All three companies worked together to restore the masonry panel–clad building, which was beginning to show signs of age.  The CINTEC system reattached the cast panels (as a result of failing ties) while providing anchor points for a new glass curtain wall. WSP and CINTEC reworked potential solutions until the project-specific anchors withstood testing and application.
The reinforcing anchoring system is performed by installing a steel bar, which is carefully enclosed in a mesh fabric sleeve, into the façade, and then injecting under low pressure a specially developed, proprietary grout.
Through this innovative approach, the project was completed without having to remove and inconvenience tenants, and as a further benefit, improved the "class" of the building while also addressing the ever-present Green Policy.
SOURCE CINTEC