News
Ontario's Chief Prevention Officer outlines mandatory training for construction workers
---
Print this page
---
August 11, 2015 by On-Site Magazine
With the construction season well underway, the Ministry of Labour is reminding those who work on construction projects to stay safe on the job. Health & Safety At Work TODAY recently spoke with George Gritziotis, Ontario's Chief Prevention Officer (

CPO

), on what the ministry has been working on to strengthen workplace health and safety at construction projects.

Thanks for taking the time to join us, George. With the summer season upon us, why is it important to be vigilant about health and safety at construction sites?

Gritziotis: Our data tells us that construction is typically a sector that suffers a lot of fatalities and injuries. While it represents around seven per cent of employment in Ontario, it has represented about 29 per cent of fatalities. It's work that can be risky by nature if the appropriate controls are not in place. And because of the seasonality, some short-term construction jobs, especially renovation, have people focusing on the deliverable and less on safety.

Since 2003, we have seen reductions in injuries – however – we have not seen sustained decreases in the number of fatalities and as long as there's one death, that's one too many. That's one worker who won't be coming home to his or her family at the end of the day. So we must all redouble our efforts.

There have been a number of fatalities at construction sites these past few months, especially involving those working from heights. What's the ministry doing to curtail that?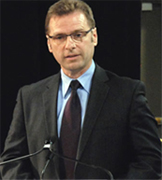 Gritziotis: We've just implemented new mandatory working at heights training standards, which just came into effect in April. These new training requirements set a baseline of high quality, consistent training for the high-hazard activity of working at heights.
Also, last year, we introduced a regulation that very few provinces have in place. We brought in mandatory occupational health and safety awareness training for workers and supervisors. This regulation makes basic health and safety training mandatory for all workers and supervisors in the province who are covered by the Occupational Health and Safety Act (OHSA). These minimum training requirements are designed to help prevent workplace incidents and injuries by ensuring workers and supervisors are aware of their roles, rights, and responsibilities.
The ministry is also working on mandatory training specifically for construction workers. Can you tell us a bit more about that?
Gritziotis: Sure. We're moving forward on an important recommendation coming out of the Expert Advisory Panel report, which is to develop mandatory entry-level training for all construction workers. So we've worked with stakeholders and established a standard. We plan to begin consulting in the next few months on both a standard and a regulation on how that particular standard will apply.
We also continue to work closely with our stakeholders to get the message out, whether it's through our school system, unions and employer associations. And we're taking a proactive approach to health and safety by continuing to conduct inspection blitzes every year to raise safety awareness and help prevent injuries and fatalities. Enforcement campaigns are essential to raising awareness on key hazards at workplaces. They send an immediate message that compliance with the law is non-negotiable and workplace safety will not be compromised.
We're working closely with health and safety associations to reach out to the roofing community, for example, to inform them about the change in the law. You've probably also heard our ads on the radio.
We're trying not to use just government regulation, but we're using our networks, messaging, education, and awareness. It's a multiplicity of activities all focused on preventing falls from heights, and sustaining those activities.
Why would this training help construction workers?
Gritziotis: It's foundational health and safety, and it helps participants understand and identify hazards. One very important part of taking mandatory entry-level training is to understand that if you're asked to do something unsafe, you can refuse to do it. And there are laws to protect workers if they are punished, such as if an employer decides to terminate employment.
It's not the only health and safety training, but it's an important foundational piece to help them understand that there are other hazards that will require them to undertake higher-risk training. Also, a lot of youth and new Canadians or new people coming into the industry need to be aware that, as a result of the nature of the industry, foundational knowledge is needed to keep them safe.
Will stakeholders have the opportunity to provide their input during this process?
Gritziotis: Oh yes, definitely. They will have the opportunity to provide input on both the standard and the application of the regulation. I encourage interested parties to check back on the website for more information.
The Premier had directed the Minister of Labour to look at creating a construction action plan. How is this going to help the construction industry and its workers?
Gritziotis: We've established an advisory panel of employer and labour representatives from the construction sector to advise the government on the establishment of an action plan that will allow us to address a number of different issues related to education, training, compliance and enforcement. The most important part of the action plan is it starts to talk about how all partners can work together to address the health and safety needs of the industry.
In the early days, we'll be looking at residential renovation. And down the road we may look at other areas. There are seven theme areas, from ensuring legislation and regulations are better understood to building awareness among young people. It also has us thinking about working with other levels of government. For example, we're looking at the whole notion of working with authorities at the municipal level to help us get the word out about health and safety.
So it's going to be a very comprehensive plan. It's going to be the kind of plan, that while we're facilitating it, it'll be owned by all our stakeholders.
So at the end of the day, who is responsible for the health and safety of workers at construction projects?
Gritziotis: Everybody. Everybody's responsible for playing a role. Government is responsible from a regulatory point of view. Employers have to take all reasonable precautions to protect the worker. They have to build it into their own companies through health and safety management systems. And workers have responsibilities, too, to work in compliance with the Occupational Health and Safety Act and its regulations.
My expectation as CPO is that people go well beyond what's in the regulations because by definition, regulations are just the min
imum standard. My expectation is that everybody functions at a high level. We're doing our part through development of regulations and standards, but at the end of the day, all stakeholders have to own health and safety, and they all have to do their part. Both by reinforcing what we're doing, and putting out echo messages. Promote it to your suppliers, your networks and your peers.
Do you have any advice that you would give those in the construction sector to improve their health and safety culture?
Gritziotis: Over the day, frequently stop and talk about prevention. Don't just do it once a week – do it every day. Talk about prevention as much as you can. And just make it a way of doing business, a way of life in construction. Health and safety isn't something you just do because it's the regulatory red tape. It's a way of working embedded into your working processes, your productivity and in everything you do. Whether it's looking at a piece of new equipment, figuring out what the impact is to health and safety, all the way through to doing a wrap-up at the end of the day on whether there were any issues that would allow us to learn and pass on to others.
---
Print this page
---
Related
Sponsored