Excavators equipped with machine control are becoming more common at construction sites as contractors look to enhance productivity, safety and efficiency. Machine control systems utilize data from satellites and input from sensors to check grade and provide geographic coordinates. Machine control solutions can also automate functions and collect and transit data over online networks.
There are two major trends in the sector: more automation and a growing enthusiasm on the part of OEMs for machine control technology. Increasingly, manufacturers are producing excavators with factory-installed machine controls or adding cables and connections to make them machine control "ready." This momentum reflects the expanded role of excavators in construction.
"We've noticed an increase in the number of machine control solutions used on excavators," says Chris Mazur, product manager for Heavy Construction at Leica Geosystems — a unit of Hexagon. "The dozer remains the number one way to move dirt. [However], the excavator is becoming more important for the contractor on the job site. It's not just as a tool to dig and haul dirt around. It is used as a production tool."
Cameron Clark, business area manager for Civil Engineering and Construction at Trimble, has also noted the growing interest in excavators.
"I've been on the machine control side for nearly 20 years, so I've been able to watch the trends. The growth in excavators has been very strong," he says. "Technology can make these machines way more versatile and able to perform tasks you would previously need another machine for. For example, with automatics, you can now cut a slope and it's at finished level, it's smooth. You don't need a dozer to come in and clean up after you."
"We are selling more excavator systems than bulldozer [systems]," he adds.
Fred Beachner, senior manager of Product Management at Topcon Positioning Systems, also says there has been a "large uptick" in the number of excavator customers demanding machine control systems in recent years.
A partnership announced this March will see Hitachi Construction Machinery making excavators with factory-installed Topcon X53-x automated machine control. These latest integrated machines will initially be rolled out in North America. Topcon has also forged relationships with other major manufacturers on excavator machine control solutions.
It is not the only one. Construction machinery manufacturer Liebherr will soon be equipping its wheeled and crawler excavators with Leica's iXE2 2D and iXE3 3D machine control systems, for instance. The partnership was also announced in March at Conexpo 2020.
"While some excavator manufacturers are going to that full step, where customers can order the excavator with a full-blown machine control solution on it, others are taking an intermediate step, where they are providing wiring and mounting provisions on the machines to make it easier to put machine controls on," Mazur says.
In similar fashion, Trimble works with OEMs to develop options for making excavators Trimble-ready. "You get the hardware and cables and other things on the excavator installed at the factory," Clark says. "Once the machine hits the field, the electronic components can be easily and quickly installed… We offer Trimble-ready solutions with OEMs such John Deere, Doosan, JCB."
Within Canadian construction circles, excavator machine control is primarily used for heavy infrastructure purposes.
Highway construction firms are Trimble's largest users of machine control in Canada, Clark says. Excavator machine control is also utilized for roadway fine grading, digging trenches for utilities and drainage systems, basement digging, marine rehab and removing contaminated soil, he adds.
As for the future, "autonomous machines are on everyone's radar," Clark says. For now though, excavator machine control providers are mainly focused on adding automatic and semi-automatic options to their solutions.
Here's a look at what's new and/or noteworthy in excavator machine control:
LEICA
Leica MSS400 Series Sensors with SP Technology are now available for excavators. The company introduced its SP, or speed and performance, option on its dozer solutions in 2012 and is expanding the offering to excavators.
"We use the sensors to calculate the position of the bucket," Mazur says. "SP sensors provide better performance for excavators by allowing operators to dig faster and move the machine faster."
Leica has also developed has a wireless Tool Recognition system for excavators that will soon be available in North America. The system is designed for excavator operators who use multiple buckets in a single shift.
"A lot of times during the day, the operator is changing the bucket. Normally, you need to load a profile for the new bucket because your dimensions and calibration settings have changed," Mazur says. "With Tool Recognition, all that happens automatically. An operator detaches a bucket and selects a new one. The system recognizes which new bucket is being put on. All the dimensions, configurations and calibrations for the new bucket automatically get applied."
By removing the possibility of using the wrong bucket, the solution eliminates the risk of human error.
Leica's iXE CoPilot system, meanwhile, automates the rotation and tilt function of tilt rotator attachments, simplifying things for the operator. "When the operator is using the CoPilot system, they only need to concentrate on controlling the digging movement… We take responsibility for the rotation and the tilt out of the equation, so the operator can continue to work on digging," Mazur says.
In March, Leica introduced a semi-automated feature on its iXE3 3D excavator machine control solution which gives operators the ability to engage automatic tilt, bucket, boom, and rotation control.
"The same benefits we see with CoPilot, we will now see with the semi-automatic excavator. It will decrease operator fatigue and make the machine more productive with less fuel consumption," Mazur notes.
---
TOPCON
Earlier this year, Topcon introduced new features on its flagship X-53x automated machine control system for excavators. The new and improved system now offers tilt rotator functionality, making it easier for operators to tilt or swivel the bucket using automatic boom control.
Topcon also has a new bring your own device (BYOD) solution called Pocket MC, based around software "that will be available via the Google Play store," Beachner says.
Designed to be used on a smart phone or tablet — hence the brand name — Pocket MC can locate identified utilities at a site, check grade and verify cut, among other features.
---
TRIMBLE
Trimble released its Earthworks Grade Control Platform version 2.0 earlier this year. The update contains several new features that are applicable to excavators, including Augmented Reality (AR).
The AR feature works as follows: a camera mounted to the exterior of an excavator fitted with special hardware relays ground surface images. These images are superimposed with 3D digital models and displayed on a screen inside the excavator.
The AR system lets operators visualize the design in relation to the site, giving them a better understanding of the job at hand, while the camera view improves operator visibility, enhancing safety, Clark notes.
The new version of the company's Earthworks platform incorporates the LOADRITE Payload Management system, which was previously a separate application. Excavator operators can now view payload and grade control data at the same time on the same display screen, Clark says.
When excavator operators using Trimble machine control put their machine into automatic mode, the operator maintains control of the stick, while Earthworks controls the bucket and boom, ensuring grade consistency.
---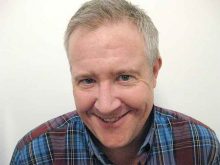 Nate Hendley is a freelance writer and author.
This article first appeared in the June 2020 edition of On-Site. Click here to read through the full issue.