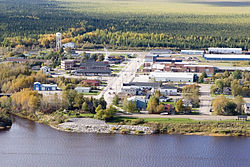 Ontario is providing the Town of Moosonee with up to $1.5 million to help replace water mains and sanitary sewer mains — part of the government's expanded funding to help small, rural and northern communities build or repair critical infrastructure.
Premier Kathleen Wynne made the announcement August 11th, in Moosonee as part of a week-long trip to more than a dozen communities across the North. The investment is through the Ontario Community Infrastructure Fund (OCIF), which gives communities access to stable and predictable annual funding for roads, bridges, water and sewer systems, and other key infrastructure.
In February, the Premier announced that Ontario will triple its investments through OCIF, from $100 million in 2015-16 to $300 million in 2018-19. Of the $300 million allocated for 2018-19, the province will allocate $100 million for municipalities to apply to invest in crucial infrastructure projects, and $200 million for predictable, formula-based funding.
"Our government's record infrastructure investments are growing the economy and creating good jobs across our province. Helping small, rural and northern municipalities build and repair critical infrastructure is strengthening communities and increasing Ontario's long-term prosperity," said Wynne.
Moosonee is one of hundreds of municipalities across Ontario to have received support through OCIF. Since the government launched the fund in August 2014, it has supported 137 infrastructure projects through its application-based component, for a total investment of $174 million. And since January 2015, OCIF has provided grants to 425 municipalities through its formula-based component, for a total of $100 million. These investments are creating jobs and supporting local economic growth across the province.
Quick Facts
OCIF is part of Moving Ontario Forward, the government's plan to invest $31.5 billion over 10 years in transit, transportation and other priority infrastructure across the province.
OCIF supports projects in municipalities with a population of less than 100,000 as of the 2011 census, as well as municipalities that are located in Northern or rural Ontario.
A 2015 report by the Broadbent Institute and the Centre for Spatial Economics found that, on average, investing $1 in public infrastructure in Canada raises GDP by $1.43 in the short term and up to $3.83 in the long term.