Sucking it up: Traditionalists coming around to opportunity in vacuum excavators
By Nate Hendley
Equipment
There are new machines, new technologies and, equally importantly, a new level of acceptance in construction circles when it comes to vacuum excavators.
Truck- or trailer-mounted vacuum excavators blast high-pressure water or air through pipes into the ground to break up soil. When high-pressure water is used, the process is sometimes referred to as hydro excavation. Once soil has been loosened, a vacuum system suctions it into a debris tank.
Traditionally, vacuum excavators were used by construction firms for potholing purposes — that is, removing soil in a non-destructive fashion from underground utilities, such as buried cables and pipes. Increasingly, contractors are using vacuum excavators for applications beyond potholing, such as slot-trenching and foundation excavation. Regardless of the task they are used for, vacuum excavators offer versatility, as well as enhanced productivity and safety — all key factors driving the growing acceptance of such machines.
"For many contractors, previously their fleet was made up of dump trucks, hoes, excavators and dozers," says Patrick McGee, director of sales for New York and Ontario with Joe Johnson Equipment, which sells Truvac vacuum excavators, among other products. "Now they are adding vacuum excavators in their fleet. It's become a necessity for them [to be] able to safely locate underground utilities."
The Truvac brand was founded by Vactor Manufacturing, which lays claim to having launched the first dedicated vacuum excavator in 1969. The brand has come a long way since then. Current Truvac vacuum excavator models include the Paradigm sub-compact, mid-sized Prodigy and the full-sized HXX line.
Other manufacturers are developing new products for the category as well. Ditch Witch launched a new trailer-mounted vacuum excavator in late 2019 while Vermeer Corp. will be releasing the cutting-edge XR2 this year.
A replacement for the FX25, the Ditch Witch HX30G is a 31 horsepower gas model, with a 542 cubic feet per minute (CFM) blower and a water system that produces 4.2 gallons-per-minute (GPM) at 3,000 psi, says Chapman Hancock, Vacuum Excavation product manager at Ditch Witch.
A jib boom is optional and the HX30G can be fitted with a 500 or 800-gallon tank.
"Many of the new features included on the HX30G follow our HX family of vacuum excavators that was introduced in 2018," Hancock adds.
The Ditch Witch HX family includes the HX30, HX50 and HX75, which come with, respectively, 512 CFM, 1,005 CFM and 1,300 CFM blowers. The HX family are also equipped with new purpose-built VT trailers that offer a lower profile, greater clearance and narrower width than previous models.
The slimmed-down trailer design "allows users to get in and out of height-restricted areas like right of ways with low hanging trees and navigate the rough terrain commonly encountered in right of ways," Hancock says.
For its part, Vermeer unveiled the XR2 hydro vacuum excavator at the Industrial Construction and Utility Equipment Exposition (ICUEE) held in Louisville, Ky. last fall. This machine features first-of-its-kind liquids/solids separation technology.
"The Vermeer XR2 vacuum excavator addresses a lot of the concerns and limitations that utility contractors have with traditional vacuum excavators," says Adam Bates, product manager at Vermeer. "For example, in Canada specifically, road weight restrictions have become a huge concern in recent years. Separating liquids and solids allows crews to maintain approximately the same weight leaving the job as when they showed up. The solid material can be stacked and then hauled away separately. It helps keep crews on the job longer digging holes."
Vermeer's industry-first separator is a particularly significant development as high-pressure water (hydro) excavation tends to be more popular in Canada.
"In a more northerly climate, it is still primarily water excavation," McGee says. "The reason for that is, water works quite well in frozen ground conditions and rocky ground conditions whereas air is very much limited. Air does have certain applications, particularly where there's a need not to remove the soil from site."
Vermeer's XR2 also has a "unique" power takeoff (PTO) feature that lets it to easily draw power from the truck with the touch of a button, Bates says. "Crews no longer need to manually disengage and reengage the gearbox every time the vacuum excavator is repositioned."
Such features, plus the XR2's 1,500-gallon (5,678.1-liter) freshwater volume are designed to help contractors operate more efficiently in potholing, stitch boring, slot trenching and general construction applications, Bates adds.
The VXT8 Mega Vac is another Vermeer release. The VXT8 has an eight-yard spoil-tank capacity, can carry a maximum of 800 gallons of freshwater and is also equipped with PTO capability.
One of the reasons for the increasingly mainstream appeal of vacuum excavators is safety. Vacuum excavation is far less hazardous than traditional excavation methods when it comes to applications such as potholing.
"With more and more utilities being buried, utility strikes are a major concern for construction companies… Crews can expose utilities using other digging methods, but there is a greater risk of striking the line they are trying to expose when using shovels, excavators or backhoes," Bates says.
If contractors initially purchase vacuum excavators for safety reasons, they soon appreciate the machine for its productivity, McGee says. "I've had the comment from the general manager and fleet manager of construction companies that this has become the busiest piece of equipment in their fleet."
This is because vacs allow contractors to do some jobs that they couldn't accomplish with hand-digging.
"An example of that would be repairing a water service to a home," McGee says. "With vacuum excavation you can do it with a hole that's 20 inches across as opposed to, if you had it done by a hand-dig, it would be six feet across and remediation costs would have been much, much higher."
Vacuum excavators can also handle smaller excavations in confined areas, which are very problematic with traditional means. "If you can imagine a tight spot where you get three feet between two buildings, you're certainly not walking a tracked excavator in there. You can easily excavate with a vac excavator in that sort of application," McGee adds.
The multi-functionality of vacuum excavators also underlines their growing popularity, Hancock notes. "If I had to describe vacuum excavation in one word, it would be versatile," he says. "Our customers are always finding new ways to put these machines to work everyday. We're seeing some usage growth in the landscape and arborist industries."
"Every time we think we've seen it all, a customer develops a new application based on a specific job they have," McGee echoes. "They tend to be niche applications… say, general contractors doing foundation excavation. Things like that. It's really only limited by the imagination of the managers of the company."
Still, the most popular use for Ditch Witch vacs remains potholing, Hancock says.
"This can be for utility mapping or exposing utilities prior to the installation of a new utility," he says. "The second most popular use would be for HDD (horizontal directional drilling) support. Hauling off HDD drilling mud and job clean up is very important to our HDD customers."
While the technology is still relatively new, vacuum excavators have made enormous technical strides in a short period of time.
"Just in the last 10 years, we have seen blower technology increase and become more efficient," Hancock says. "Digging nozzle technology has come a long way, as well. Early nozzles focused on shooting water out at the highest rate possible, but those days are over. Nozzles can now spray in various patterns, in constant motion and in differing psi. Vacuum excavators are more efficient than ever, both in digging effectiveness and water conservation efforts, allowing vacuum excavators to be more productive on the job."
The high-tech trend continues as customers clamour for features such as GPS, telematics, booms and remote controls for operators.
"Booms are becoming very popular," Hancock says, pointing out that Ditch Witch has two boom offerings. "One is our six-way hydraulic boom and the other is our articulating jib boom. The articulating jib boom was a way for us to provide our customers a less expensive way to reduce the strain of carrying the vac hose. Customers are also taking advantage of heaters for hydro excavation. Similar to using a hot water-power washer to clean clay and sticky soils off equipment, hydro excavators equipped with heaters are capable of increasing production by breaking down the soil and being more effective in harder soil conditions."
For his part, McGee praises Vactor's patented DigRight water system, which gives hydro vac operators the ability to select water pressure at the push of a button.
As featured on Truvac machines, the DigRight system allows for "precise control over the waterflow so as not to damage any utilities," McGee says.
Given such strides, McGee predicts that vacuum excavators will soon become a construction site staple.
"It's not going to replace the tracked excavator. It's not going to replace the bulldozer. It's a surgical tool that allows for maximum productivity for jobs that require precision… It will be interesting to watch over the next five years as it becomes part of virtually every construction operation," he says.
---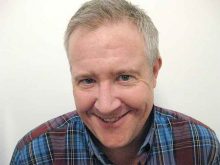 Nate Hendley is a freelance writer and author.
This article first appeared in the February 2020 edition of On-Site. You can read the entire issue here.