Staying on target: Payload management systems lead wheel loader tech trends
By Nate Hendley
Equipment
Onboard payload management systems, remote operability and hybrid/electric engines are some of the prominent high-tech trends in the wheel loader sector.
Displaying load data and other details on cab monitors, payload management systems make it less likely an operator will overload or underload a haul truck. Knowing the exact weight of a load is hugely helpful in aggregate work and other applications requiring precise loads. They also help keep operators efficient and allow contractors to gauge the utilization and productivity of their loaders.
Wheel loader telematics systems, meanwhile, are becoming ubiquitous as data-driven companies seek constant updates about performance metrics, machine location and fuel consumption.
"People are always looking for more productivity," says Aaron Kleingartner, product and dealer marketing manager for Doosan Infracore North America, in a nod to the fundamental driver of wheel loader trends. The end-result, he says, has been increased bucket capacity and more powerful engines.
Meanwhile, though autonomous wheel loaders remain a bit out of reach, OEMs are increasingly interested in hybrid/electric models and remote operability.
Breaking it down by OEM, here's what's new and/or noteworthy in wheel loaders:
DOOSAN
Doosan's DL580-5 wheel loader is built for aggregate work. "It's designed to be able to load a [24 ton] over-the-road truck in two passes," Kleingartner says.
Introduced in 2020, the DL580-5 features heavy-duty axles, a reinforced Z-bar, electric steering, enhanced braking capability and Air Ride seats for operator comfort. An optional LOADRITE L3180 SmartScale from Trimble can "calculate the mass of material that is on the end of the lift arm" for each lift cycle, Kleingartner adds.
In a smaller size class, Doosan exhibited a prototype electric/diesel hybrid wheel loader at last year's CONEXPO-CON/AGG that should be available in 2022 or 2023. The machine will deliver the same performance as diesel without the local emissions.
HYUNDAI
Hyundai launched the HL930A and HL975A CVT wheel loaders at Conexpo last year.
The HL930A has a bucket capacity of 1.9 cubic meters and works well for "smaller aggregate customers where they don't need quite as big a machine," says Juston Thompson, Wheel Loader product manager with Hyundai Construction Equipment Americas.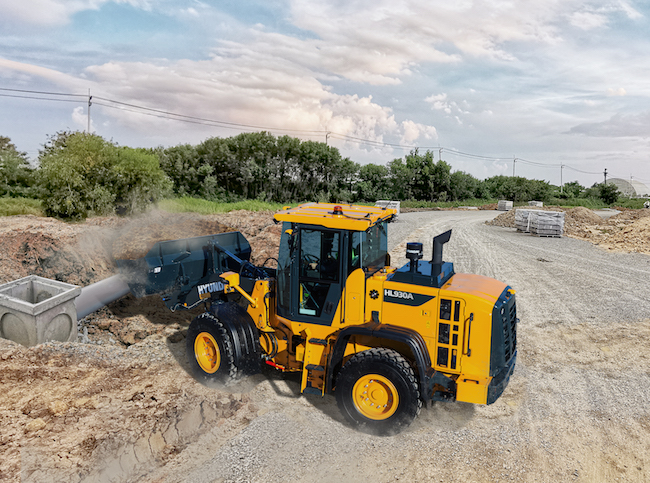 The HL975A CVT features a continuously variable transmission for improved fuel consumption. Both machines have Cummins Performance Series diesel engines and an Engine-Connected Diagnostics (ECD) system for remote monitoring and service.
Wheel loaders in the A Series come with quieter cabs, multi-camera All-Around View Monitoring and Intelligent Moving-Object Detection (AAVM/IMOD) systems and an onboard weighing function that offers load tallies on a monitor, the company says. Hyundai wheel loaders are also fitted with the Hi-Mate remote management solution.
Hyundai hosted a demonstration Conexpo in which an operator in Las Vegas remotely controlled the actions of a Hyundai HL960A wheel loader wheel loader in Georgia.
Remote operability is an option "for some of those more hazardous situations" where it may not be the safest thing to put an operator in the cab, Thompson says.
JOHN DEERE
John Deere has several wheel loaders that are suitable for aggregate applications including the 644 X-Tier and 844L Aggregate Handler, says Luke Gribble, the solutions marketing manager for Deere.
The mid-sized 644 X-Tier wheel loader features a 231 horsepower engine, electrohydraulic (EH) controls and a 3.1 to 3.6 cubic meter bucket capacity. An E-Drive hybrid/electric transmission system enhances performance, maneuverability and efficiency.
The 844L Aggregate Handler has a 429 hp engine, heavy-duty axles, EH controls and a 7.1 to 7.5 cubic meter bucket capacity. A fuel efficient engine, and features such as lockup torque converters and a dedicated steering pump, let operators do more with less fuel. "[It's] what we consider a true two pass loader — loading an average over-the-road truck in two full bucket passes," Gribble says.
A factory-installed Payload Weighing System is available for John Deere wheel loaders. Fully integrated with the company's JDLink machine-monitoring system, it allows contractors to track and visualize payload data. Deere's wheel loaders also come with object detection and tire pressure monitoring and JDLink telematics.
Deere's latest wheel loader, the 644 G-Tier, has EH controls, E-drive and enhanced linkage and bucket design. "It's a more economical machine that can still perform at a high level," Gribble says.
KOMATSU
Komatsu unveiled the WA475-10 and WA800-8 wheel loaders in Las Vegas last year.
The WA475-10 offers enhanced productivity, fuel efficiency and operability, and works well in quarries, says Adam Braun, product marketing manager at Komatsu. It has a 290 hp engine, Komatsu Hydraulic Mechanical Transmission (KHMT) and the company's patented Independent Work Equipment Control. The latter features lets operators speed up boom and bucket operations without hitting the accelerator, reducing fuel consumption and wear and tear on the machine.
The WA475-10 is also fitted with a payload management system which "allows us to monitor what's left in the bucket as the machine is dumping either into a truck or onto a pile," Braun says. "We can also recalibrate the bucket through an Empty Bucket Calibration Switch, so the system can be kept as accurate as possible throughout the workday."
The WA800-8 wheel loader, a complete white paper redesign, has an 856 gross hp engine and improved rear and front frame and loader linkages.
"We've also added a modulation clutch for smoother approaches, and a throttle lock with auto deceleration to keep work equipment speeds up," says Sebastian Witkowski, product marketing manager for Komatsu Mining Support Equipment.
An optional six-camera KomVision radar system provides obstacle detection and gives WA800-8 operators a bird's eye view of their working area, via a monitor. There is an automated digging, approach, and semi-auto approach functions, as well as a payload management system with two modes. In "addition" mode, weight is tallied on a monitor every time the bucket takes a new scoop, while in "subtraction" mode, a pre-set target weight decreases when a bucket is dumped. In both modes, five different target materials can be selected, enabling operators to track productivity in different work areas, or help operators achieve more accurate material blending ratios.
The KOMTRAX Plus telematics system monitors machine health and performance metrics and comes standard on Komatsu equipment. 
LIEBHERR
Liebherr's L566 to L586 XPower wheel loaders are a good choice for aggregate applications, says David Reid, sales manager for Ontario and Western Regions with Liebherr.
These loaders feature the company's fuel-saving XPower driveline, which integrates the hydrostatic drive for short loading cycles, and the mechanical drive designed for longer routes or when the loader is moving on an incline. Monitoring systems can track tire pressure and machine performance while an active personnel detection solution automatically applies the brakes if anyone gets too close to the rear of the machine.
A Truck Payload Assist program offers "dynamic weighing information on the go," Reid says. "You can set target weights and optimize the loading cycle, so you don't get truck overloads. You're getting information all the time. That [information] is reported in our telematics system [called] LiDAT."
XPower wheel loaders can also feature sensor-based adaptive working lighting. When the lift arm is raised at night, LED headlights automatically dim so operators aren't subjected to blinding glare. An extra light at the front of the loader turns on at such moments for full illumination.
VOLVO
Volvo Construction Equipment's pioneering L25 electric wheel loader is powered by lithium-ion batteries that can run eight hours without a recharge. If all goes to plan, the ground-breaking wheel loader will be delivered to customers by year's end.
The L25 is ideal for nighttime operations and/or worksites in crowded urban locales or near hospitals, schools or parks. Basically, any environment where low-noise and zero-emissions are appreciated.
Elsewhere in its lineup, Volvo has made further updates to nearly a dozen wheel loaders, from the L60H model to the 350H.
"One of the things we did is make a rimpull control system standard on all those models. This feature helps operators reduce wheel spin in soft/slippery applications and reduce unnecessary tire wear," says Eric Yeomans, product manager for Wheel Loaders at Volvo CE.
Volvo has also updated and expanded its Road Assist applications for wheel loaders. These include an On-Board Weighing App which measures bucket loads and a Tire Pressure Monitoring System App that alerts operators when tire pressure and temperature parameters are exceeded. A Map App, meanwhile, uses GPS to pinpoint the location of other machines on a worksite.
---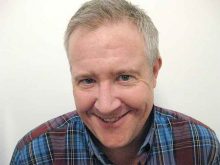 Nate Hendley is a freelance writer and author.
This article first appeared in the April 2021 edition of On-Site. To read through the whole issue, click here.