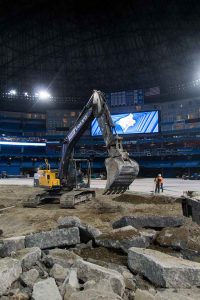 While he is not being watched as closely as pitcher Marcus Stroman, contractor Vito Nardi definitely feels like he is squarely in the public spotlight. The job he is working on – preparing Toronto's Rogers Centre stadium, home of the Blue Jays for an all-dirt infield – is winning him a lot of attention. The project is drawing interest from local media and the sports world. "You're on-camera constantly, so you make sure that everything goes smoothly," says Nardi, president, Alliance Restoration Ltd.
As well as the unusual level of public attention, the project is on a tight schedule and represents a rather unique installation for any contractor. Previously, the base paths were concrete, covered with Astroturf and with dirt surrounding only the bases themselves. The existing concrete on the base paths is being removed to install a specialized mix of layers of gravel, sand and clay. The work must be completed by opening day in early April, despite use of the space during the construction period by two other major events.
Batter up
"We have been talking about [this project] for a long time. It was just a question of getting started with it," says Kelly Keyes, vice-president, Building Services, Rogers Centre. The planning commenced in earnest when the Toronto Argonauts football team announced that it was moving to another stadium earlier than expected. Not having to support football at the stadium freed Blue Jays management up to install the new infield. "Management already knew what they wanted. It was just a matter of putting the plan into place," says Keyes.
Alliance Restoration has an eight-year history at Rogers Centre. "There's a certain trust level," says Nardi. Among other projects, "We did all the expansion joints in the stadium itself and the waterproofing of the roof [not the dome, but the adjacent
concrete roof].
The company can handle pretty well any kind of concrete work, including structural concrete restoration and waterproofing. For example, it has worked on parking garages on some very large commercial projects. "Most of the work we do is in-house. We rarely sub work out," says Nardi.
The firm is one of 10 divisions in the Verdi Alliance Group of Companies (Bolton Ont.), so it can get quick access to other construction specialties it may need as required. For example, Alliance Site Construction Ltd. is building the wooden forms for the concrete.
Nardi was conscious of the demanding deadlines and having immediate access to other services in-house was a big plus. "It's not like you are depending on a third party to keep you on schedule," he says. "That's the bonus of being able to do things on your own – having the resources on staff and being able to say, 'I need you guys there in a couple of days.'"
Working the bases
The project involved measuring the field and cutting and removing some of the 26-year-old concrete to permit the installation of a specialized dirt mixture in the infield.
The job was laid out with a total station using AutoCAD files, with home plate and the foul lines serving as references, according to Nardi.
Under-surface utilities were not a big issue for the contractor. "From our drawings, we knew where all the utilities were," says Nardi. "We have not had anything unexpected happen… We did hit some electrical conduit and some water pipes, but those were all abandoned."
They over-cut the infield area where the dirt is going to go. The next step was removing the broken slabs. Alliance Restoration rented a 20-T excavator for the project, since it's an unusual machine for this contractor to use. Their routine work is on structural slabs, not grade.
The wooden formwork is pretty straightforward, with straight lines except for the arc between first and third bases. They will then fill the area in with 16 to 18 in. of concrete, says Keyes. She adds that the new concrete will be an improvement. "Concrete technology has changed so much. We will make
it harder."
"The concrete is a slab-on-grade mix. It's your typical 32C2 concrete, reinforced with rebar dowels on the edge to tie-in the slab with the apron we're pouring," says Nardi.
Once the concrete is ready, the infield area will be filled with a multilayer system consisting of two inches of gravel, four inches of sand and then the clay product, layered in two inches at a time with a laser grader.
The Astroturf will be laid to fit before the clay goes in.
Two major events have to be accommodated at the venue before the infield project can be completed: the Monster Energy AMA Supercross motorcycle race and a Disney on Ice show. Temporary fill will be used for those events. "Then, we will put in the DuraEdge product two inches at a time, to bring it up to the level for baseball,"
says Keyes.
At the end of March, the grounds crew had about a week to familiarize themselves with the new surface, learning how best to groom, treat and monitor its condition.
All work has to be completed by the Blue Jays' home opener in the first week of April against the Boston Red Sox.
Home run
"The only thing I had any concern about was getting the job done in such a short time frame," says Nardi. "It turned out not to be a big deal for us."
"This job ran even smoother than I thought," he adds. "They [Blue Jays management] were a little bit nervous about this job because it has to look good. I think they're extremely happy right now."
"Alliance Restoration has been very, very easy to work with. They've helped to problem-solve," says Keyes.
"I think that aesthetically, this will look a lot better than a sea of green.
And it's a little bit better for the players, in terms of running and sliding,"
adds Nardi. 
Jim Barnes is On-Site's contributing editor.Send comments to editor@on-sitemag.com.