Latest mid-size excavators set to tackle most anything job sites throw at them
By David Kennedy
Equipment
Modern construction sites require modern solutions, and as contractors turn the page on a unique and challenging 2020, equipment manufacturers are stepping up to make work on-site quicker, cheaper and cleaner. 
Nowhere are advancements as important as in the diverse mid-size excavator market, where builders rely on their machines to handle an untold number of different tasks. On the whole, OEMs are focussing on improving performance, bolstering fuel efficiency and outfitting equipment with more automation technology in 2021.
Below, On-Site gets into the specifics, checking in with some of the key big iron makers on what to watch for this year with their 20 to 70 ton excavators. With Canadian operators settling into their heated cabs for winter, we've also touched on the latest cold weather features designed to keep mid-size models running smoothly through the shorter days. 
CATERPILLAR
Cat's rollout of its Next Generation excavators continued through 2020, with two of its latest models — the closely related 349 and 352 excavators — premiering last fall. 
As it has with all machines in the new line, the equipment maker has packed the 349 and 352 with a range of standard tech features focused on improving both production and fuel efficiency. To name a few, Cat Grade with 2D, Grade Assist, Cat Payload, E-Fence and Lift Assist come standard. 
Using both the display and a series of audible tones, Lift Assist tells an operator how much they're lifting and the safe working range for their load, Ryan Neal, product application specialist for Caterpillar, says.
 
"If you lift a manhole off of a truck, it's going to tell you how much weight you just picked up and then as you start to boom and stick out, and move that object around, we're going to tell the operator where that safe working window is," he says. 
Along with the other features, Neal says Cat plans to introduce Grade With Assist on the two new machines in the near future.
On the efficiency front, the new models offer more work per unit of fuel than previous models. Smart Mode, for instance, automatically matches engine and hydraulic power to digging conditions, reducing fuel consumption. The smart hydraulic pumps and main valve system also constantly read the operator's joystick signals, Neal notes, allowing for lower engine RPM while ensuring no part of the excavator is overworked. 
For cold weather, Cat offers several packages — from extra batteries and block heaters, to ether aid — to ensure contractors are not slowed down on frigid mornings. 
DEERE
This month, John Deere introduced SmartGrade technology on a pair of its mid-size excavators. The new semi-automatic control options for the 210G LC and 350G LC give customers a choice between combinations of guidance, control, as well as 2D and 3D systems. The automation technology is also designed to grow with customer needs, with upgrade kits making it easier for customers to adopt new systems as required. 
"Overdigging can be costly when you factor in the time it takes to rework, additional materials needed to get back to grade, and compaction," says Justin Steger, solutions marketing manager for Site Development & Underground, John Deere. Depending on what level of the technology customers select, the system employs hydraulic limitations or audible alerts to ensure operators can get to the desired grade quickly, without going too deep, Steger adds. 
Among other features aimed at fuel savings, Deere includes auto idle and auto shutdown as standard, eliminating fuel burn when excavators aren't being put to work.    
To keep operators comfortable through the winter, the equipment maker offers an optional air-suspension heated seat and a premium, high-back, three-way adjustable, active heating (and cooling) seat. Deere cabs also feature an automatic, high-velocity bi-level climate-control system with automotive-style adjustable levers, Steger notes. "That helps keep the glass clear, the cab comfortable, and the operator productive."
Finally, to keep up visibility with less daylight, the company offers full LED light packages "to get the work done from before the sun comes up until after the sun goes down." 
DOOSAN
While integrating advancements throughout its mid-size models, safety is the area Doosan views as paramount. Rearview cameras are now standard on all of the equipment maker's crawler excavators, visible to the operator through an in-cab LCD monitor. A sideview camera is also available, and the latest step forward, an all-around view monitor, will be available in all of the company's next generation crawlers. 
Along with new safety technology, Doosan has focused on both maximizing uptime and improving fuel efficiency through DoosanCONNECT. The telematics system helps fleet managers easily keep track of maintenance intervals and ensure operators are making the best use of their equipment. 
"One area for improvement is unnecessary machine idling, which wastes diesel fuel and burns through warranty hours," says Aaron Kleingartner, product and dealer marketing manager, with Doosan Infracore North America. "Telematics data clearly shows an operator when he or she is letting a machine idle. Fleet managers can use this as a training opportunity and help educate operators on the benefits of turning off the machine when it's not in use."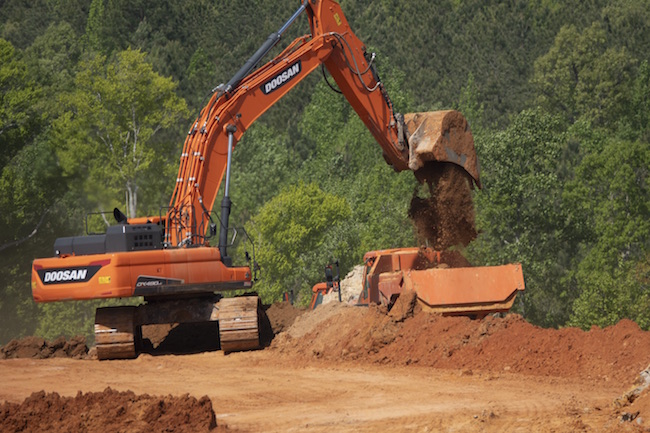 Features such as auto idle and auto shutdown are available on the company's mid-size excavators, either lowering the engine's RPM to conserve fuel or shutting off the engine after a predetermined time.
For operations in cold weather, Kleingartner advises excavator owners to pay particular attention to engine oil. 
"Most excavator manufacturers recommend CJ4 engine oils to protect the machine's vital engine components," he says. "Switching to a special winter-blend fuel — typically No. 1 — can help excavator owners prepare for cold temperatures."
HITACHI
A semi-automatic system that lets an operator set and maintain their desired grade tops Hitachi's list of new features for its mid-size excavators.
The Solution Linkage Integrated Grade Control with Topcon, which the equipment maker developed in cooperation with Topcon, gives operators accurate grade information in-cab, without the help of an additional labourer, translating to greater productivity and fewer wasted passes. Soon to be available on the ZX210-6, ZX210LC-6 and ZX350LC-6 models, the platform is also upgradeable, letting contractors bolster the technology on their machines as their business requires.
Hitachi's mid-size machines are powered by a Tier 4 Final Isuzu engine that delivers fuel-efficient and reliable performance, and requires no diesel particulate filter (DPF). Fuel pressure, timing and volume are precisely regulated by electronic control for efficient combustion with Isuzu's common-rail fuel injection system. Three work modes — High Productivity, Power and Economy — are available, as are features such as auto-idle and auto-shutdown.
During the winter, the fuel recirculation system in Hitachi excavators helps prevent fuel gelling in cold climates, Grouped service points and extended maintenance intervals help keep customers running longer.
In-cab, operators are kept comfortable even in extreme conditions with a climate-control system that also helps keep the glass clear, as well as an optional heated and cooled seat
HYUNDAI
With improved hydraulics across the board and a new Lift Mode enhanced by Fine Swing and Free Swing control features, excavators in Hyundai's new A Series offer improved control over the load, as well as greater productivity with less fuel consumption. 
The series is powered exclusively by Cummins Performance Series engines, which feature EGR-free (exhaust gas recirculation) architecture and offer improved power, torque and reliability while reducing complexity and reliability. Hyundai senior product manager, Mike Fuller, says the new architecture also saves on space. The Single Module aftertreatment system combines DPF (diesel particulate filters), SCR (selective catalytic reduction) and urea dosing into one unit, which takes up half the space and weighs 30 per cent less than the prior system, he notes. With no need for manual regeneration, so there is "no downtime." 
Among the long list of enhancements on the tech front, Fuller says Hyundai's mid-size A Series excavators include a new feature known as Owner Menu Editing that preserves preferred operating settings when several operators are sharing the same machine. 
A pair of batteries with 24-volt systems start the engines, even in cold weather, while an intake pre-heater warms the air to aid the start, Fuller says. The aftertreatment system also has heated DEF (diesel exhaust fluid) lines. In-cab, operators can enjoy a fully heated seat and the added amenity of a hot/cold storage box. 
One model Fuller says he's watching closely in 2021 is the HX210AL. He anticipates it gaining significant traction, particularly among small to mid-size contractors looking for a fuel efficient machine in the roughly 20- to 22-ton class. 
KOMATSU
Making use of GPS and sensor data, Intelligent Machine Control headlines Komatsu's suite of features aimed at improving the efficiency of its mid-size excavators. The system offers semi-automatic excavating, allowing operators to dig straight to grade. 
"Depending on the job site, this technology can provide up to a 63 per cent improvement in efficiency when compared to conventional staking and grading methods," says Andrew Earing, senior product manager for Komatsu. 
The company's excavators also use a closed centre hydraulic system and arm return circuit — specs that improve hydraulic system efficiencies while also providing higher levels of fine control and multifunction cycle times. 
With contractors continuing to focus on paring down emissions, Komatsu excavators have six selectable working modes to optimize engine output. They also include engine management technologies such as auto idle and shut down. The company's standard machine telematics platform, Komtrax, also helps customers easily track fuel consumption and other fleet productivity metrics. 
In winter weather, Earing says, a number of engine features can help boost performance.
"Our engines can easily be provisioned with coolant block heaters and use a 24V grid heater for engine air preheating instead of using ether aid solution which can be costly and unreliable," he says. "Many Komatsu engines utilize a variable speed cooling fan which also improves cold climate operation as well as fuel efficiency."
LIEBHERR
Having progressively introduced a new series of excavators since 2019, Liebherr has focused on robust performance with lower fuel consumption.
"We've got an incredibly productive machine and we've got incredible control built into the machine with the ability to customize settings based on the work at hand," says David Reid, sales manager for Liebherr Canada. 
The company's Generation 8 excavators include a dedicated swing pump on the R926 to R945 models as standard. The Tier 4 Final Liebherr diesel engine utilizes SCR (selective catalytic reduction) without EGR (exhaust gas recirculation) or DPF (diesel particulate filters). Automatic engine idling and automatic engine shut-down after idling features cut down on unnecessary fuel burn. 
In-cab, the high resolution, seven-inch touchscreen display offers numerous control and monitoring options from air conditioning to fuel consumption. Factory supplied auxiliary hydraulics also allow the operator to control up to 20 tools from the monitor. 
For improved performance in cold-weather, Reid noted the Generation 8 models are equipped with factory-installed fuel heaters. The integrated units assist in cold-start situations. 
VOLVO
Two recent technology upgrades lead the way for Volvo CE's mid-size excavators. Originally rolled out in 2017, the equipment maker introduced a significant update to its machine control application called Dig Assist last fall. A range of new features, such as a customizable interface and the ability to use the system with additional attachments, make it easier for operators to work both more accurately and more quickly. 
"One of the most helpful features on Dig Assist to avoid operators sending out underloaded or overloaded trucks is on-board weighing," says Sung Sook Kim, product manager for mid-sized crawler excavators at Volvo. "It provides on-the-go data for the load in the bucket and records tonnage moved per shift."
Volvo also recently introduced an automated grading control system known as Active Control, capable of cutting grading times by up to 45 per cent, on the EC220E, EC250E and EC300E. 
To reduce fuel consumption and tackle emissions, many of Volvo's mid-size excavators offer ECO mode, which optimizes the hydraulic system to reduce flow and pressure losses. Auto idle and auto engine shutdown features are also included. 
For operations in extremely cold weather, Volvo excavators can be equipped with several options, including engine block heaters, diesel-powered coolant heaters and Arctic-rated hoses that can handle conditions down to -40 C.
"Hydraulic cylinder rods are another area you want to keep an eye on," Kim adds. "Repeated exposure to snow, ice and salt brine mixtures can cause chrome to rust. You want to fully retract hydraulic cylinder rods when possible and consider steam washing the excavator exterior regularly to help remove salt build-up."
---
This article first appeared in the February 2021 edition of On-Site. To read through the whole issue, click here.