Electrics gain foothold in vocational market with OEMs stepping up innovations
By Nate Hendley
Green Construction
Trucks
Vocational trucks have gone high-tech. Manufacturers are testing battery-electric models and adding a growing number of futuristic features to traditional vehicles. Meanwhile, once cutting-edge solutions such as telematics and remote diagnostics are increasingly the norm on new vocational trucks.
"Remote diagnostics, proactive diagnostics and over-the-air-programming will become more common in vocational applications," predicts JP Davis, Vocational Segment manager for Freightliner Trucks.
Electronic safety features such as sensors, collision mitigation systems and display screens have also become commonplace.
"Across the entire industry, I think for vocational applications, one of the [growing] areas is applying technology solutions to improve the safety of vehicles," says Tony Sablar, the Vocational marketing manager for Peterbilt.
This focus on advanced safety measures has helped propel the popularity of Automated Manual Transmission (AMT).
"We see automated manual transmission penetration continuing to grow, thanks to the many benefits AMTs bring to vocational customers, including improved performance, higher levels of driver productivity, and comfort and improved safety," says Tim Wrinkle, the Construction Product manager with Mack Trucks.
In addition to these developments, electric trucks are starting to enter the market. The vocational sector is well-suited for such vehicles, the OEMs say. In particular, travel distances are relatively short for vocational work compared with long-haul trucking, making limited battery range less of an issue.
"With vocational vehicles, a lot of them come back to a home-base at night and can be easily charged. They follow a predictable route. That really lends itself to electric vehicles," Sablar says.
Unlike vehicles with combustion engines, electric trucks produce no emissions and little noise. Electrified vocational vehicles could work at night or around private homes, schools, or hospitals without incurring complaints about exhaust fumes and loud engines.
For all that, it's a safe bet that gas and diesel engines will continue to dominate for years to come, even as all types of vocational trucks go "high-tech".
With this in mind, here's a look at what's new and/or noteworthy in the vocational truck market:
Freightliner
In 2018, Freightliner, a subsidiary of Daimler Trucks North America, introduced the new EconicSD waste collection truck.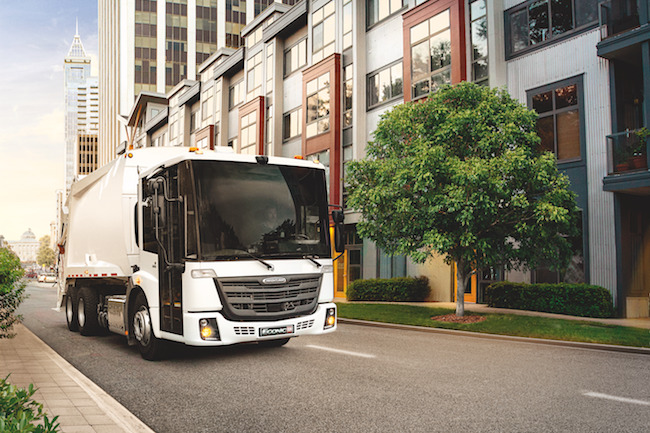 With a cab-over engine design, the EconicSD is equipped with a new 7.7L in-line, six cylinder Detroit Diesel Corp. DD8 engine capable of 350 horsepower. The truck also features Detroit Connect Virtual Technician, a remote diagnostics solution which provides data about vehicle performance and health.
"With Virtual Technician, when an engine, aftertreatment or transmission component throws a fault code, fleet management receives a notification of the fault event as well as the recommended service. Remote diagnostics help service managers stay on top of emerging service needs within their fleet," Davis says.
EconicSD safety features include a panoramic windshield, low-seating position (for improved visibility), active brake assist, lane departure warnings and adaptive cruise control.
"Optional safety features include side guard assist and a built-in camera system with 360-degree views displayed on a flash screen monitor," Davis says.
Kenworth
Kenworth has introduced factory-installed twin-steer configurations for its flagship T880 and T880S vocational trucks.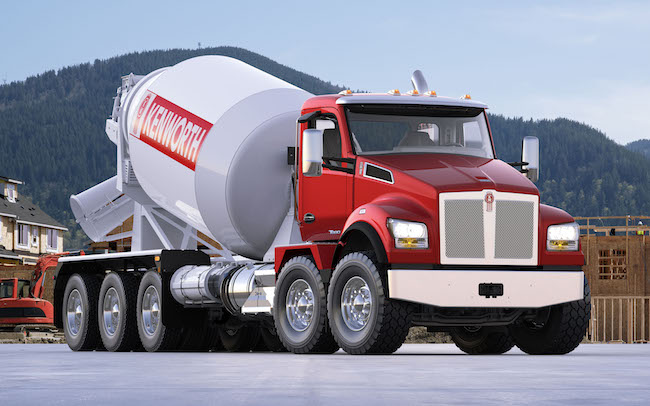 The T880S Twin Steer features a set-forward front axle with a 61-inch axle spread to maximize payload. The T880 Twin Steer, meanwhile, boasts "set-back front axles" and is "ideal for crane, mixer and other vocational applications that require 86-inch axle spacing to meet local bridge laws and enhance overall load carrying capacity," Kenworth, a PACCAR company, notes.
The T880 now comes standard with the PACCAR 20K front axle and features OnGuardACTIVE, a driver assistance program that provides adaptive cruise control and helps drivers mitigate rear-end collisions as an option.
Mack
Mark Trucks has unveiled the LR Electric model for garbage-collection purposes and enhanced its traditional Mack Granite vocational truck.
"The LR Electric is powered by Mack's integrated electric powertrain with two 167-kW motors that deliver a combined 536 peak horsepower and 4,051 lb.-ft. of torque available from zero RPM. Power from the motors is sent through a two-speed Mack Powershift transmission to Mack's proprietary drive axles. The truck has four NMC lithium-ion batteries [Lithium Nickel Manganese Cobalt Oxide]," says Scott Barraclough, Mack Technology product manager.
New features on the upgraded Granite vocational truck include Command Steer, a sensor-equipped active steering solution and latest version of Bendix Wingman Fusion. This braking system features cameras, radar, upgraded lane departure warning and Automatic Emergency Braking (AEB).
Mack's mDRIVE automated manual transmission has been improved, with a new auto neutral function that "automatically shifts the transmission into neutral when the parking brake is set, improving jobsite safety," says Wrinkle.
Earlier this year, Mack also introduced the medium-duty Mack MD, an "all-new truck series" that "will meet the needs of customers with applications requiring dry van/refrigerated, stake/flatbed, dump and tank truck configurations," he adds.
Peterbilt
In January 2020, Peterbilt Motors Co. unveiled the battery-electric Model 520EV, a low-cab forward model designed for refuse collection duties.
Peterbilt recently announced that Meritor would supply electric powertrains for the 520EV and another truck, the heavy-duty Model 579EV. Powered by a Meritor/TransPower Energy Storage Subsystem, the Model 520EV is capable of 430 hp, has a range of roughly 100 miles and takes four hours to charge.
More traditional Model 520 vocational trucks with either a natural-gas powered CUMMINS ISL12-N engine or a PACCAR MX-11 10.8 litre diesel engine are also available.
Peterbilt enhanced its SmartLINQ remote diagnostics platform so all trucks in its fleet with PACCAR MX engines — a category that includes the traditional Model 520 — can get engine and aftertreatment software updates wirelessly.
"The customer is informed an update is available," Sablar says. "When they are ready, they go on a web portal to initiate the software download. It downloads to the truck while the truck is still in operation. The customer doesn't have to pull the truck out of service for an update."
Volvo
Volvo Trucks has launched a "refreshed" version of the VHD, the company's main vocational truck, says Andy Hanson, product marketing manager, Volvo Trucks North America.
The recently refreshed VHD has a redesigned grille, updated headlights with a de-icing option, handy for snowy nights, and improved remote diagnostics/remote programming capability.
"We've enhanced the number of parameters that can be updated over the air using remote programming," says Ashley Murickan, product marketing manager, Volvo Trucks North America.
The upgraded VHD is equipped with Volvo's I-Shift automated manual transmission. Currently, roughly three-quarters of all VHD vocational trucks are fitted with I-Shift. T-Ride, a proprietary suspension system, and Volvo Dynamic Steering (VDS) are two other features. VDS adds torque to reduce steering strain while driving slowly and vibrations while driving over rough surfaces.
The new and improved VHD also boasts a collision mitigation system, which helps drivers prevent or mitigate front collisions.
"We've had it on our highway trucks since 2017, but just introduced it on the VHD this year," Murickan says.
This June, Volvo deployed a pilot VNR Electric truck as part of the Volvo LIGHTS (Low Impact Green Heavy Transport Solutions) project in Southern California. A partnership with over a dozen other groups, the LIGHTS project promotes the development of electric trucks. To this end, the VNR Electric is intended for urban distribution and drayage applications.
While Volvo has fielded electric trucks in Europe, the VNR Electric will be "our first electric product" in the North American trucking sector, says Brett Pope, director of Electric Vehicles for Volvo Trucks North America.
---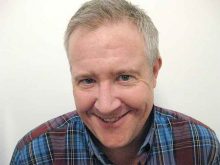 Nate Hendley is a freelance writer and author.
This article first appeared in the October 2020 edition of On-Site. Click here to read through the whole issue.