Article
Coming out swinging: Technology, telematics and less tail-swing top list of what's new in crawler excavators
---
Print this page
---
March 18, 2019 by Nate Hendley
A broader range of applications and advancing technology are forcing manufacturers in the mid- to large-size crawler excavator segment to unearth new solutions. Foremost among these evolving trends are reduced tail-swing machines that let excavators take on a more diverse list of jobs, and high-tech systems aimed at optimizing both individual pieces of equipment and entire fleets.
"Short-swing radius crawler excavators will continue to grow in value as a versatile tool in urban environments, utility work and road construction," says Sung Sook Kim, product manager for Excavators at Volvo Construction Equipment. "Their short tail swing allows them to work where other excavators cannot or with less disruption, blocking fewer lanes of traffic on a road job."
Work required on roads, bridges and other aging infrastructure is the main driver behind this trend, according to Aaron Kleingartner, marketing manager at Doosan Infracore North America. "Reduced swing-tail models significantly improve an operator's ability to maintain a smaller work-area at a job site," he says. "Over the last few years, we've seen an increase in requests for larger tonnage machines that have reduced tail-swing. As large as 30 to 35 tons."
Telematics and technology are two of the other emerging trends experts are watching closely.
"The expanded use and customer demand for technology and telematics is becoming more prevalent because of all of the information it provides fleet managers," says Jonathan Spendlove, product marketing manager for Excavators at John Deere and Hitachi Construction Machinery – Americas. "At first, telematics was thought of as an additional feature, but now, it's an industry norm and becoming an industry must."
Machine-guidance systems and machine-control are also finding growing acceptance.
"Customers are finding cost savings through reduced overcut and undercut errors, resulting in more accurate and efficient operation," says Chad Parker, senior product specialist and sales trainer at Hyundai Construction Equipment Americas.
And perhaps the most important trend of all: sales of medium to large crawler excavators are booming.
"The overall market for excavators in North America continues to grow year over year," Parker adds. "Through the first half of 2018, according to [Association of Equipment Manufacturers] retail data, the medium to large crawler excavators segment grew by almost 25 per cent."
Here's what's new and/or noteworthy from crawler excavator manufacturers in the mid-to-large size segment:
DEERE
More performance in a smaller package is one of the top priorities in the latest John Deere excavators.
The company recently released its 345G, which has a three-pump hydraulic system, which Spendlove describes as a big advantage over the two-pump excavators of some competitors.
"Our three-pump system provides 180 gpm (gallons per minute) of hydraulic flow – about 40 per cent more than competitive models – so the multifunctioning on this excavator is phenomenal and its swing and cycle times are fast," he says.
Mid- to large-size John Deere crawler excavators also utilize a pair of telematics technologies, known as JDLink and Service Advisor, to complement the equipment's improved physical components.
DOOSAN
Doosan's 22-ton DX225LC-5 is the company's most popular in the mid-size range, Kleingartner says.
For in-cab technology, it has a standard seven-inch colour LCD monitor that displays machine and engine data, a rear-view camera system and simplified joystick controls.
The excavator boasts an engine that meets Tier 4 emissions standards and it uses Smart Power Control, which enhances efficiency while productivity is maintained via pump torque control and variable speed control. "It's really a good workhorse and versatile," Kleingartner says.
When it comes to the larger end of Doosan's lineup, the company's DX350LC-5 is its "premier product," according to Kleingartner. "That machine has a number of capabilities that are really useful for our customers."
The DX350LC-5 comes with DoosanCONNECT Telematics, an Electronic Power Optimizing System (EPOS) for control and efficiency, and x-chassis frame. For operator comfort and job site safety, a rear-view camera comes standard, while a side-view camera is an option. With an operating weight of roughly 80,000 pounds, the DX350LC-5 also features D-Ecopower technology, an electronic pressure-controlled pump system that reduces fuel consumption.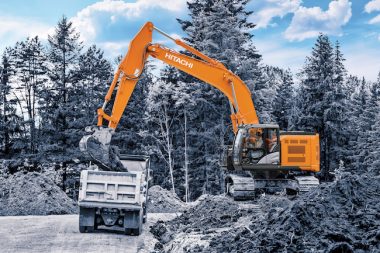 HITACHI
Hitachi, meanwhile, introduced the ZX345USLC-6 in 2018. The reduced-tail-swing excavator has increased reach, dig forces and bucket and lift capacity, but is still capable of working in tight, confined spaces, Spendlove says. The excavator also comes equipped with a three-pump hydraulic system.
Five years of ZXLink Ultimate, a remote monitoring technology, comes standard on Hitachi Dash-6 Series excavators. The technology provides 24/7 online access to the machine's location, health, utilization, fuel consumption and other valuable data points.
Along with the new tech on board, the Hitachi machine offers the stability and lifting capacity of an 80,000-pound excavator while having a tighter upper structure that will fit easily into smaller workspaces.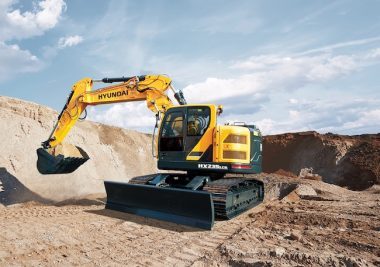 HYUNDAI
In one of its latest tech upgrades, Hyundai is aiming to give operators a complete picture of their surroundings. The company's AAVM (All-Around View Monitoring) video camera system is now available as an option in all of the company's HX-line crawler excavators.
"This innovative system maximizes operator awareness of the surrounding areas, providing a 360-degree field of vision which helps prevent accidents," Parker says. "The operator can see all the way around the machine with nine views including an industry-exclusive 3D bird's eye view and a 2D four-channel view."
In addition, an Intelligent Moving Object Detection (IMOD) feature gives visual and audio warnings "whenever a person or object is within 16.5 feet of the machine," Parker adds.
Meanwhile, Hyundai has partnered with Trimble Inc. to offer grade control and machine guidance solutions for its excavators. The manufacturer also has a proprietary GPS-equipped remote management telematics system called Hi-MATE that can track machines in the field and remotely monitor performance. HX series excavators come standard with Tier 4 final diesel engines.
Like his counterparts, Parker points to reduced radius swing capability as a growing trend.
"We see increased customer demand for more compact-radius machines across all product sizes and an increasing demand for larger compact-radius machines," he says. "Today, Hyundai's largest compact-radius excavator is the HX235 LCR, equipped with or without a dozer blade, but we are looking at introducing larger models in the near-future."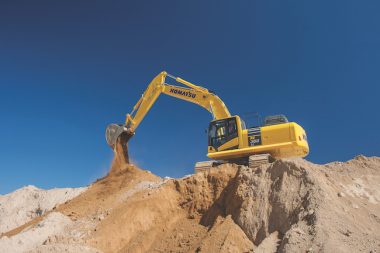 KOMATSU
Komatsu introduced the industry's first fully-electric/hybrid excavator in Japan in 2008.
Continuing in this pioneering vein, Komatsu recently released the 36-ton HB365LC-3 hybrid excavator, featuring an EU Stage IV engine, proportional joysticks and a unique hybrid power system.
The latter converts energy generated by swing-braking into electricity which is then sent through an inverter and stored in a Komatsu Ultra Capacitor.
The HB365 "has the same [horsepower] as a standard machine but fuel consumption is down about 20 per cent," says Kurt Moncini, senior product manager for track products at Komatsu America. "Performance-wise, it's really a snappy machine."
The HB365LC-3 can be fitted with KomVision, Komatsu's multi-camera/software system, offering a 360 degree exterior view for safety and efficiency purposes.
Komatsu is also expanding its line-up of excavators equipped with Intelligent Machine Control, to include the mid-size PC290 crawler excavator.
LIEBHERR
Since January, Liebherr has been introducing a new line of crawler excavator: its Generation 8. Composed of seven excavators from 22-to 45-tons (R 922, R 924, R 926, R 930, R 934, R 938 and R 945), the crawlers include a number of new features designed to deliver more performance, greater safety and more comfort for the operator.
Among other design changes, the digging and tractive forces on the undercarriage of the Generation 8 lineup have been upgraded to increase performance. Liebherr has also optimized the machine's load curve to reduce fuel consumption. The cab is outfitted with a pneumatic seat, a seven-inch colour touchscreen and a newly-designed layout for the main keyboard.
The new R 934, which will premiere at bauma 2019 in Munich, has an operating weight of 35-tons, a Stage V emissions compliant engine capable of 200 kW/272 hp and a backhoe bucket capacity of up to 2.5 cubic metres. It's recommended for digging, loading, leveling, earthmoving and lifting.
VOLVO
Two years ago, Volvo unveiled its ground-breaking EX2 all-electric compact excavator prototype. The company is now working on the EX1, a 70-ton dual powered, cable-connected excavator prototype that boasts an electric motor as well as a diesel engine, Kim says, adding that the model has been tested at the company's "emissions-free" quarry near Gothenburg, Sweden.
Meanwhile, Volvo's Co-Pilot HMI (human machine interface) is now a standard feature in the company's new crawler excavators. This system features a 10-inch LED touchscreen tablet that powers all Volvo Assist platforms. It uses on-board machine data and high-precision sensors to give operators a real-time view of their work. "Excavator operators can use Volvo Co-Pilot to utilize Dig Assist, designed to increase accuracy when levelling sites, digging, grading or creating complex site profiles," Kim says.
The company has also moved into the market for short-swing crawler excavators, introducing its ECR355E last year. "The 35-ton ECR355E is a new size class for the Volvo excavator line-up and fills a need in the market for a machine that has the power for heavy, high-production work while being able to fit into tight areas that otherwise require a smaller, less productive machine," Kim says. "[It can do] everything from heavy infrastructure and utility work to demolition and road building."
Volvo also has several short-swing models in the medium and large class size, including the ECR235E and ECR145E crawler excavators.
WHAT'S NEXT
In addition to the popularity of reduced swing-tail models, two trends almost certain to continue gaining momentum revolve around technology and size.
"Where are we going to be 10 years from now?" asks Moncini. "I think our [excavator] operators are going to be young, internet-savvy and smart-phone enabled. They're going to be very electronically competent."
Expect OEMs to react accordingly and outfit their crawler excavators with the latest and greatest high-tech tools.
Meanwhile, size is going to continue to matter greatly.
"The most popular machine size used to be the 21- to 24-metric-ton size class across North America," Parker notes. "Today, as infrastructure spending grows, residential and commercial construction continues to rise, and the oil and gas sector strengthens, larger machines … that is, 30- to 35-metric ton class excavators, have taken the lead in the North American market."
---
This article originally appeared in the March 2019 issue of
On-Site.
You can read through the entire issue
here.
---
Print this page
---
Related
Sponsored