Article
Clearing a path: Dozer makers step up their technology to help less experienced operators gain traction
---
Print this page
---
April 23, 2019 by Nate Hendley
It's a new reality that's impossible to overlook. Skilled operators are becoming tougher and tougher to find. While equipment manufacturers can't exactly help Canadian contractors fill seats, they are making the equipment easier to run and the cabs more appealing.
"It's harder and harder to find operators and technicians," says Sam Meeker, Caterpillar's product application specialist for dozers. "[Customers] want machines that are easier to operate and more intuitive. That's what drives the features in the cab such as the touch-screen. It's intuitive and makes it easy to find and access the feature that you're looking for."
"Also, quieter cabs with better visibility are popular," he adds. "[The aim is to] get that new guy in the seat faster and make him proficient as quickly as you can."
Max Winemiller, the director of product management for CASE Construction Equipment's Road Building & Site Prep division, echoes the sentiment. Customers want "reliable, smart machines that help them tackle the trained operator gap and high turnover so they can be competitive with the next contractor," he says.
With this in mind, telematics, grade control and ease-of-operation are key considerations for bulldozer manufacturers.
There's also a trend towards greater in-cab amenities.
According to Cory Brant, product consultant for Crawler Dozers at John Deere Construction & Forestry, the company has focussed on bolstering cab comfort features along with making dozers easier to operate and cheaper to maintain. "These improvements help address the struggles customers are facing while trying to find and retain skilled operators," he says.
With young people no longer flocking to construction jobs – and those who do enter the field tending to be very tech-savvy – it's a pivotal move for the industry. Unlike previous generations, these young workers have grown up using computers, smart phones and video game consoles and have a natural feel for technology.
As contractors, and the OEMs they rely on, take on new challenges, this is what the latest dozers have to offer:
CATERPILLAR
The D6 XE with an electric-drive powertrain and the D6 with a fully-automatic four-speed power shift transmission are Caterpillar's biggest new releases in the dozer department.
"The D6 XE system has some marked improvements over the D7E," Meeker says. "We have a new style of generator that's more efficient and requires less service. The inverter has been improved and the control systems updated. The electric drive gets about 10 per cent more productivity and burns about 10 per cent less fuel than a power shift."
As the name suggests, the D6 XE runs differently than conventional dozers. "When the engine is running, it's spinning a generator and it is generating electricity," Meeker says. "We don't effectively store any electricity, however. It's not like a battery-operated car… The key reason this tractor is so efficient is because we can run the engine at lower RPMs."
Both the D6 and D6 XE can fitted with a push-arm blade or VPAT (Variable Power Angle Tilt) blade system.
The company's Cat Connect GRADE technology package can include Cat Slope Indicate, which offers basic slope information to the operator, and Cat GRADE Slope Assist that tweaks blade position. Bulldozers can also be equipped with the Cat LINK telematics system to collect and transmit data.
Caterpillar offers the Attachment Ready Option (ARO) feature, which provides mounting brackets and hardware that simplify the installation of aftermarket grade control systems.
CASE
Case's M Series dozers were the first in the industry to feature a Selective Catalytic Reduction Tier 4 engine designed to reduce fuel use, enhance power and offer a lower hood profile for better visibility, Winemiller notes.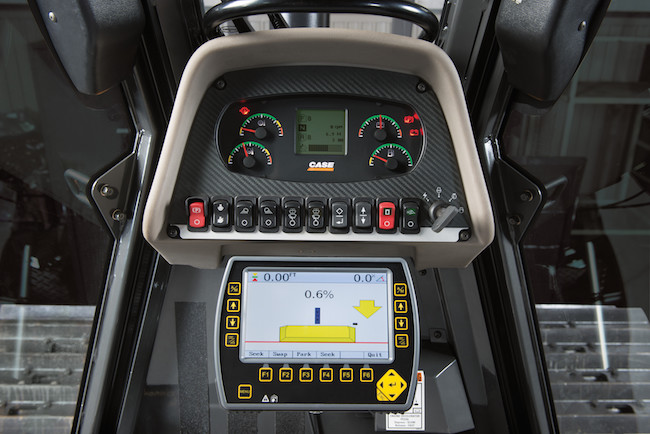 Over the years, the company has continued to innovate.
It's now introduced the Hydrostatic Drive to the M Series and Universal Machine Control "which allows any of the three major machine/grade control systems to be attached without changing wiring harnesses," Winemiller says.
The company offers SiteControl CoPilot, an entry-level cross slope machine control solution through Lecia Geosystems. "The system is simple, inexpensive and intuitive," he adds.
The SiteWatch Telematics system, meanwhile, "is standard and allows great value for owners to manage their fleets and dealers to assist customers with tracking machine needs, maintenance, etc.," Winemiller says.
Case has upgraded M Series undercarriages to reduce wear and improve performance and recently started to offer its first eight cubic yard blade on the 2050M LGP bulldozer configuration.
JOHN DEERE
John Deere's new 280-horsepower 950K dozer features a Power-Angle Tilt (PAT) blade capable of moving 8.6-cubic yards of material. The dozer is the largest on the market to be equipped six-way PAT blade, making it well-suited for earthmoving duties, according to Nathan Horstman, product marketing manager for Crawler Dozers with John Deere Construction & Forestry.
The 950K PAT dozer was recently fitted with SmartGrade, the company's factory-integrated 3D mastless grade control system. The technology allows for automatic blade control.
A solution called Auto SmartGrade lets operators "dial in several settings, such as Material Type, Load Level and Activity Type. This feature allows the grade control system to be used early in the construction process," Brant adds.
Deere also recently outfitted the smaller 650K, one of the company's most popular models, with SmartGrade. Like all the company's dozers, the 650K is also equipped with a dual path hydrostatic transmission, making it "extremely easy to operate," according to Horstman. "Hydrostatic dozers provide superior control and maneuverability with features such as counter rotate, full power turns, hill hold and infinitely variable travel speed."
Fuel-saving features on the 650K include Auto Idle, Auto Shutdown and Eco Mode. The latter is a standard feature on all John Deere dozers that automatically adjusts engine RPM to save up to 20 per cent in fuel.
John Deere then offers the WorkSight telematics system. The JDLink feature lets customers connect remotely with their dozers via a desktop or mobile device to receive alerts and updates on machine performance, location and maintenance. Another feature called Service ADVISOR Remote gives John Deere dozers the ability to receive wireless software updates in the field.
KOMATSU
Komatsu recently introduced the D155AX-8 Low Ground Pressure (LGP) dozer for better performance in a number of tough environments.
"Compared to the standard D155AX-8 undercarriage, the LGP has a 12 per cent wider track gauge, 9.3 per cent longer track on ground and 38-inch wide track shoes," says Jonathan Tolomeo, product marketing manager for dozers at Komatsu America Corp. "Ground contact area is increased by 72 per cent for improved floatation in soft ground while the long and wide undercarriage provides better stability on slopes and machine balance."
Komatsu also released a new D65PX-18/D65PXi-18 wide VPAT arrangement with seven per cent wider track gauge, 36-inch extreme service clipped grouser track shoes, seven per cent wider blade and 14 per cent lower ground pressure, Tolomeo adds.
The company's innovative SIGMADOZER blade employs a protruding cutting edge that, according to Tolomeo, "easily penetrates the ground like a spade nose shovel" to break up material and quickly load the blade for increased production.
On the high-tech front, Komatsu has introduced a New Dozing Control (NDC) feature for its Intelligent Machine Control (iMC) dozers. NDC makes automatic dozing control more efficient and can boost productivity by 40 per cent versus previous automatic machine control modes, the company says. The KOMTRAX telematics system wirelessly transmits the dozer's location, performance and utilization data to a computer or mobile device.
KOMTRAX and Tier 4 Final certified engines are now standard on new Komatsu dozers.
THE FUTURE
Along with intelligent systems like grade control, alternative powertrain technologies are also gaining ground. Breakthrough products include Caterpillar's D6 XE – the world's first dozer with a high-drive electric drive powertrain. "The XE is what you could call our next generation electric drive, the D7E being the first generation electric drive that [entered service] in 2009," Meeker says.
Despite the advancements, a fully electric dozer remains a steep engineering challenge.
Komatsu, for example, excels at hybrid excavator technology but "dozers just don't offer an efficient opportunity for energy storage/re-cycling," says Tolomeo. "Komatsu is looking at many different powertrain drive systems, but the current focus is on torque converter/lock up on the larger dozers and hydrostatic drive on the smaller dozers."
Meanwhile, the massive amount of momentum behind grade control and other semi-autonomous systems prompts a serious question: why not just introduce fully autonomous dozers and remove the human factor altogether?
According to the experts, safety and the state of the technology are the two big challenges that stand in the way of driverless dozers. For now, it remains to be seen if work crews, the public and insurance providers are ready to accept autonomous bulldozers at crowded construction sites in populated areas.
As for the technology, it's relatively early days, but there are reasons to be optimistic.
"Autonomous vehicles have become commonplace in the mining industry, where work is more repetitive and the job sites are more secure," Tolomeo says. "In the construction industry, machines perform more random tasks. It will take some time before autonomous utilization catches up to the [level of the] mining industry."
If driverless dozers remain a future dream, Meeker points to the growing prominence of semi-autonomy, which still requires an operator in the cab, but takes an increasing number of functions out of human hands. "It's all about trying to make the machines more efficient, easier to operate. There's been a rapid increase in technology over [the] last few years," he says.
---
This article first appeared in the April 2019 issue of On-Site. You can read through the full issue here.
---
Print this page
---
Related
Sponsored