A view into 2020: A peek at job sites across the country
By On-Site Staff
Construction
The diversity of Canadian construction never ceases to amaze. From a compact demolition job on a narrow Toronto street, to a frigid glimpse of a new dam not too far from Hudson's Bay, contractors stayed busy in 2020 and were kind enough to share a sliver of what they saw with On-Site.
To build on our finalists for the 2020 Canadian Construction Photo Contest, the two dozen shots that follow display a bit more of what contractors tackled last year, and a few of the ways they adapted to challenging circumstances.
Simply click any of the shots to enlarge them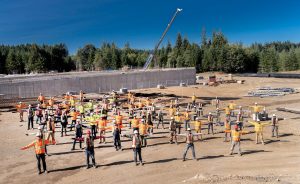 Company: Aecon
Photo: Jamie Abernethy
Location: Courtenay, B.C.
Date: September 2020
The crew at the Comox Valley Water Treatment Plant project social distancing in a sign of the times.
Company: Barnard
Photo: Maria DeBrocke
Location: Northern Manitoba
Date: December 2020
An overhead view of the spillway at the $8.7 billion Keeyask dam.
Company: Big Rock Specialty Forming & Framing
Photo: Chris Ruiter/SitePartners
Location: Vancouver
Date: July 2020
A crew working on a framing job on a large home renovation.
Company: Broccolini
Photo: James Beach
Location: Barrhaven, Ont.
Date: November 2020
Work at the 222 CitiGate project, a warehouse for Amazon covering roughly 2.8 million sq. ft. About 500 workers took part in the project on an accelerated 14-month timeline.
Company: Clobracon Construction
Photo: Sebastien Arbour/Arbour Photographe
Location: Mascouche, Que.
Date: November 2020
The forming of the ground floor slab for a four-building residential project.
Company: EBC
Photo: Jean Gaboury/masian.ca
Location: Quebec City
Date: October 2020
An aerial view of the new Medicago vaccine production site.
Company: EllisDon
Photo: Rob Vardy
Location: Calgary
The view from a crane working on the Palliser One re-cladding project in Calgary. The team removed over 1,500 precast panels and installed roughly 6,000 ACM panels as part of the project. Roofing and lighting upgrades were also included.
Company: WDBA
Photo: Gordie Howe International Bridge project
Location: Windsor, Ont.
Date: July 2020
A tower crane at the $5.7 billion Gordie Howe bridge as the first concrete pour was completed.
Company: Graham Construction
Photo: Stephanie Grundke
Location: Edmonton
Date: Spring 2020
A dual gantry crane with an 80 tonne lifting capacity in use on the Groat Road Bridge project.
Company: J Cote & Sons Excavating
Photo: Chris Ruiter/SitePartners
Location: Agassiz, B.C.
Date: December 2020
An excavator operator climbing into his cab while working on the Pathfinder Camp Resort project.
Company: Kiewit
Photo: Kevin Hachey
Location: Kingston, Ont.
A lift bridge on the $175 million Third Crossing bridge project. The new 1.2 kilometre span will cross the Cataraqui River.
Company: Magil Construction
Photo: Tracy Charbel
Location: Montreal
Date: December 2020
Work on the 19-storey Gare Viger mixed-use urban campus located in the heart of Old Montreal.
Company: Western Grater (NorLand)
Photo: Mackenzie Plovie/EarthMovers Media
Location: Langford, B.C.
Date: Summer 2020
Work on widening McCallum Road on Vancouver Island. The project required considerable drilling and blasting.
Company: Northstar Scaffold
Photo: OTBxAir
Location: Toronto
Refurbishment work on the Carillon Clock Tower at Exhibition Place in Toronto.
Company: Ontario Cutting & Coring
Photo: Michael McGowan
Location: Mississauga, Ont.
Date: September 2020
A strategic concrete removal on a residential project where the concrete did not meet specified structural strength requirements.
Company: PCL
Photo: Torsten Schulz
Location: Vancouver
Date: August 2020
A lightning strike flanks this view of The Post, a 1.1 million sq. ft. office project in Vancouver.
Company: Vancouver Port Authority
Photo: William Jans
Location: Vancouver
Date: December 2020
The Centerm Expansion Project will increase the shipping container capacity at the busy West Coast port.
Company: Priestly Demolition
Photo: Concrete Pictures
Location: Toronto
A multi-building demo project on a compact job site in Toronto. High-reach equipment added to the complexity.
Company: SiteMax Systems
Photo: Chris Ruiter/SitePartners
Location: Langley, B.C.
Date: August, 2020
A superintendent making use of construction management software from SiteMax on a Langley job site.
Company: Taggart Construction
Photo: William P. McElligott Photography
Location: Ottawa
Date: Fall 2020
A series of excavators at work on part of a watermain installation on a residential street. The job was part of a City of Ottawa infrastructure renewal project.
Company: Turner Construction Company
Photo: Alistair McIntyre
Location: North Vancouver
A chimney stack weighing 114,000 pounds being maneuvered into place as part of a power plant replacement project at Lions Gate Hospital. The job enlisted the help of one of the largest capacity cranes in the province.
Company: Valard
Photo: Jonathan Holmes
Location: Kingsvale, B.C.
Date: August 2020
The Kingsvale Transmission Line Energization last summer. This shot shows the 138-kV transmission line, which will provide additional power to the Trans Mountain Expansion project, suspended in a sunbeam.
Company: Wales McLelland
Photo: Chris Ruiter/SitePartners
Location: Vancouver
Date: July 2020
Workers assemble a crane as part of a four-storey industrial and office strata project.
Company: Zehr Levesque
Photo: Nick Stanley
Location: Kitchener, Ont.
Date: May 2020
Rehabilitation work on a century-old glove factory as part of new office development.