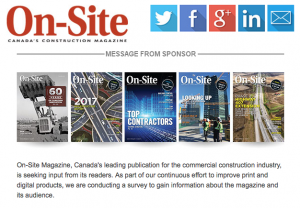 On-Site Magazine, Canada's leading publication for the commercial construction industry, is seeking input from its readers. As part of our continuous effort to improve print and digital products, we are conducting a survey to gain information about the magazine and its audience.
The survey should only take a few minutes of your time, and your answers will be handled in a secure and private system, and combined with others to protect your confidentiality.
All respondents who complete the survey and provide contact information – for prize notification – will be entered to win (great to offer a prize).
Thank you for helping to make On-Site an even stronger publication, and resource for our industry.
Sincerely
Corinne Lynds – On-Site
Follow the link below to complete the online survey: