On-Site and SitePartners launch inaugural Top 40 Under 40 in Canadian Construction
By On-Site Staff
Construction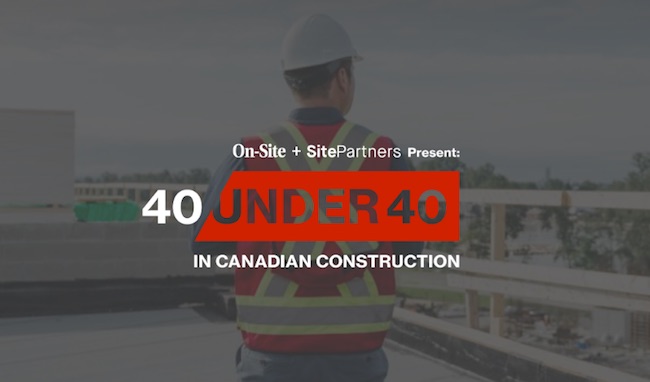 Today, SitePartners and On-Site Magazine announced the inaugural 40 Under 40 awards in Canadian construction, recognizing the most exceptional, progressive, and innovative young leaders who are advancing the movement of construction in Canada.
"We are excited to partner with On-Site Magazine to showcase incredible achievements in business, innovation, vision, leadership, and community involvement from exceptional individuals in the construction industry," Andrew Hansen, president of SitePartners, said in a release. "Canadian construction professionals are some of the most dynamic, knowledgeable, and innovative individuals that are positively impacting built environments and the economy of our country."
The top 40 Under 40 awards in Canadian construction will showcase a cross-section of top-performing individuals who have achieved professional success while showcasing innovation and leadership abilities in the Canadian construction sector. Judging will be based on the following criteria: 50 per cent Professional Achievements; 40 per cent Innovation, Leadership and Influence; and 10 per cent Business/Community Involvement.
"As the top construction industry publication in Canada, On-Site Magazine is thrilled to shine a light on the people who represent this dynamic industry," said David Kennedy, editor of On-Site, in a release. "We are looking to showcase outstanding individuals who represent all aspects of the construction lifecycle – from estimating and planning in the office to managing and executing in the field, and all the vital roles in between."
From now until Friday, October 9, 2020, we invite construction industry professionals from across Canada to nominate outstanding individuals under the age of 40 for these prestigious awards and recognition as one of the top 40 in the construction industry. Working professionals may include Executives, Contractors, Designers, Architects, Engineers, Estimators, Quantity Surveyors, Project Managers, Site Supervisors, Superintendents, Occupational Health & Safety Managers, Equipment Operators, Tradespeople and more.

---
---
A short form is available where industry professionals will have the option to self-nominate or nominate someone else. Winners will be selected by an esteemed panel of judges and profiled in the December 2020 issue of On-Site.

Learn more about the inaugural 40 Under 40 in Canadian Construction:

Site 40 Under 40 from SitePartners on Vimeo.