Nominations now open for On-Site's 40 Under 40
By Adam Freill
Construction
Leadership
On-Site's annual Top 40 Under 40 in Canadian Construction is returning this October. Nominations are open until the end of July.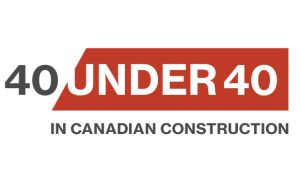 On-Site Magazine and SitePartners have returned once again to recognize a new group of exceptional, progressive, and innovative young leaders who are advancing the movement of construction in Canada. Nominations are now open for the 2023 Top 40 Under 40 in Canadian Construction.
Last year, we celebrated the accomplishments of 40 construction professionals who are making an immediate impact in the cities, provinces, and country in which they live. Featuring individuals both on- and off-site who are helping advance complex infrastructure projects, implementing and launching powerful technology tools for jobsites, and building communities, the far-reaching contributions of last years' winners is a promising reflection of where the Canadian construction industry is heading.
Now entering its fourth year, we are once again looking for a cross-section of impressive professionals from all areas of the construction industry. As with our previous three editions, we are looking to recognize individuals who have made an impact on the industry, rising through the ranks of their companies throughout their 20s or 30s. If you know someone under the age of 40 (as of December 31, 2023) who is building up Canada's construction sector, please nominate them for this special, and highly regarded recognition.
Winners for the Top 40 Under 40 in Canadian Construction will be chosen based on professional achievements, innovation, leadership, and community involvement, and will be profiled in the October 2023 issue of On-Site Magazine.
Nominees must be:
Residents of Canada and currently working in construction in Canada.
39 years old or younger on December 31, 2023
With a focus on those engaged in the construction and construction management of infrastructure, ICI projects and high-rise residential buildings, past honourees have included: architects, contractors, engineers, equipment operators, estimators, executives, occupational health & safety managers, project managers, quantity surveyors, site supervisors, superintendents, and tradespersons, as well as others who support the general contracting community in Canada from the fields of consulting, law, finance, and technology.
This year's nomination deadline is 11:59pm PST on Friday, July 28, 2023.
Nomination forms can be accessed at: site40under40.ca.