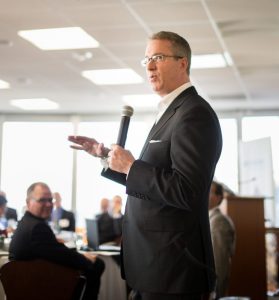 Canada's Clean50 Awards are announced annually by Delta Management Group and the Clean50 organization to recognize 50 individuals or small teams, from 16 different categories, who have done the most to advance the cause of sustainability and clean capitalism in Canada over the past two years. Of the Clean50, 16 leaders from each category, who are recognized as the top contributor, are chosen to receive the Clean16 award. The Clean50 gives solutions oriented leaders and sustainability practitioners from across a broad spectrum of interests, abilities, and expertise, the opportunity to foster enhanced collaborations for new solutions and strategies.
"The 2017 Clean16 are truly the leaders of the leaders in sustainability in Canada. The competition for the top spot this year in every instance left us with many great choices – and to be selected from amongst such a strong group of peers is truly a testament to the contribution Andrew Bowerbank has made to helping make Canada more sustainable for all Canadians." said Gavin Pitchford, CEO, Delta Management Group.
After launching the Low Carbon Agenda for EllisDon, Bowerbank was a key instigator in brokering an industry-led partnership. The Carbon Impact Initiative was formed in support of Canada's COP21 commitments, and includes partners BASF, WSP, Cement Association of Canada, Cricket Energy, Enbridge and Cisco. This past February Bowerbank brought 70 senior industry executives together to discuss how these Canadian industries can work with regulators to transform the market into a low-carbon economy. The seven partners then developed the Industry Response Strategy focused on Net-Zero Energy buildings, carbon accounting for buildings, adoption of clean technology and incentives for low-carbon building.
"Canada has now committed to work with international leaders to address the challenge of climate change but it will take true collaboration across public and private sectors to achieve meaningful results. The Clean50 Awards provides a platform for open discussion and recognises the leaders in Canada working so hard to meet the energy and environmental challenges before us. I am proud to be recognised alongside this distinguished group of professionals," said Andrew Bowerbank.
This is a major milestone for Bowerbank as previous honourees have included Ontario Premier Kathleen Wynne; Quebec Premier- Philippe Couillard; Canada Green Building Council CEO- Thomas Mueller; TD Bank Group Chief Environment Officer- Karen Clarke Whistler; Sunlife Financial Managing Director-Philip Gillin and Manitoba Hydro CEO -Scott Thomson.
Andrew will be amongst approximately 110 past and incoming Clean50 Honourees meeting on Thursday, Sept 22nd at the "Clean50 Summit 6.0" on Toronto Island, to spend a day amongst peers and colleagues tackling common sustainability challenges.