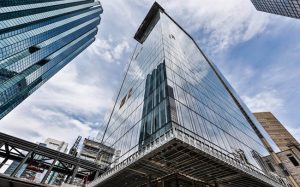 The Ledcor Group of Companies celebrated the grand opening of Enbridge Centre last month, the first office tower to be constructed in downtown Edmonton's Financial District in more than 20 years. Ledcor applied several specialized construction methods in order to bring the newest technologies to the building, while preserving the heritage façade.
"Our client's vision was to preserve the heritage façades while bringing in modern and sustainable elements to the building," said Peter Hrdlitschka, President, Ledcor Construction Canada. "Our project team and trades excelled at bringing together these components in a way that really reflects how vibrant Edmonton's business community has become over the last two decades."
New construction technologies, such as Building Information Modeling (BIM) were used to recreate and restore the heritage façades on the existing Kelly and Ramsey buildings that were badly damaged by fire in 2009.
The use of an unbonded post-tensioned system was crucial to build more efficient floor slabs, which enhances the overall performance of the building. By using less concrete and reinforced steel, this system provides superior structural integrity and allowed for a fast-tracked construction schedule.
Enbridge Centre is targeting LEED Gold certification for Core and Shell. Earning this certification would place it among an elite group of highly sustainable buildings in Edmonton.