News
Freightliner makes gains in vocational truck market
---
Print this page
---
August 8, 2012 by James Menzies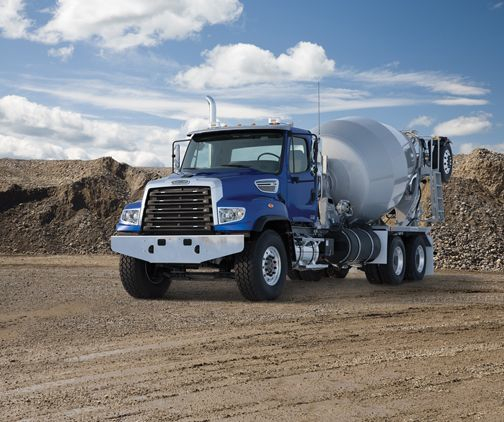 NAPA VALLEY, Calif. – Refocusing on the vocational truck market is paying big dividends for Freightliner.
The company decided two years ago to establish itself as "the dominant player" in the vocational truck market; and while it still has some work to do, Freightliner is pleased with the progress it has made to date.
"We knew, quite frankly, this was an area where we were a little bit weak in," said Richard Saward, general manager, vocational sales with Freightliner. "We put together a growth strategy in 2010."
Very quickly, Freightliner rounded out its vocational truck line with the introduction of the 114SD set-forward axle in May 2011, the set-back axle version of the same truck in October 2011 and the 108SD in December 2011.
Meanwhile, the company established a Customer Responsiveness Team whose main job was to identify unusual requests from customers and ensure Freightliner had an offering to satisfy those requests – however odd they seemed. The goal, according to Richard Shearing, director of product strategy with Daimler, was to "improve competitiveness through effective processing and decision making on minor product requests."
Since the team was created, Freightliner has come to market with many new options, including: all-wheel drive that's compatible with electronic stability control; bolt-on front frame extensions; cross-over exhaust; heated windshields; and the combination of the Cummins ISL engine with the Allison 4000-series automatic transmission.
In the case of heated windshields, Shearing admitted Freightliner initially didn't see the need for the option, but "it was a competitive deficiency for us because we didn't have the option. One competitor had this option and had success in writing it into bid specifications. If the bid spec' says 'heated windshield required,' if we don't have it, we're not considered in the bid."
Since its formation in May 2011, the team has reviewed 200 requests and has converted about 80 per cent of them into new databook offerings. Shearing said this has resulted in incremental sales of about 1,600 vocational trucks that otherwise would have gone to another manufacturer.
Customer surveys are also showing Freightliner is gaining credibility as a manufacturer of vocational trucks.
Before setting out to conquer the vocational truck market, a 2010 brand awareness study showed 50 per cent of surveyed truck buyers indicated they didn't think they would buy, or definitely wouldn't buy, a Freightliner vocational truck.
A similar survey conducted last year showed only 14.3 per cent of customers "definitely" wouldn't buy a Freightliner vocational truck (compared to 32.7 per cent in 2010). The total number of customers who "probably wouldn't" or "definitely wouldn't" buy a vocational truck from Freightliner sunk from 50 per cent in 2010 to less than 30 per cent a year later.
On the flip side, the number of vocational truck buyers who would consider Freightliner increased by 25 per cent.
Real-world new vehicle registrations seem to be validating those claims. Freightliner says new truck registration data in the U.S. and Canada for Classes 6-8 vocational trucks now show Freightliner as the market leader in the food and beverage delivery and refuse (low cab-forward models excluded) segments. The company has improved its vocational truck market share by 50 per cent in a two-year period.
Still, the company is not yet where it wants to be. Saward said it's an "ongoing project."
---
Print this page
---
Related
Sponsored