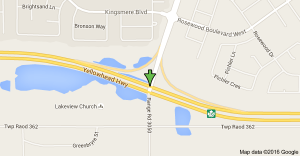 The Honourable Amarjeet Sohi, Minister of Infrastructure and Communities, and the Honourable Jim Reiter, Minister of Government Relations for Saskatchewan, have announced funding for a new interchange at Boychuk Drive and Highway 16 in Saskatoon.
One of the City of Saskatoon's top transportation priorities, this project includes the construction of a new Eastbound left-turn loop to replace the eastbound left turn lane on Highway 16 at Boychuk Drive, aimed at resolving safety and traffic flow issues at this busy intersection. Additionally, the work will involve the addition of accessible pedestrian and cyclist facilities, which will make the area safer for cyclists and pedestrians. As the City's growth continues, the new interchange will also provide more capacity to handle an increased volume of traffic.
"Traffic congestion and gridlock costs Canada's economy billions of dollars in lost productivity each year, damages our environment, and makes it harder for people to get to work and for families to spend time together. This new interchange will improve traffic flow in the area and increase safety for drivers, cyclists and pedestrians alike, said The Honourable Amarjeet Sohi, Minister of Infrastructure and Communities
The governments of Canada and Saskatchewan are each contributing up to $14,730,392 to this project through the Provincial-Territorial Infrastructure Component – National and Regional Projects (PTIC-NRP), with the City of Saskatoon covering the remainder of the estimated $45,180,000 total project cost.