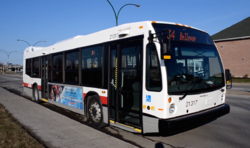 BROSSARD, QC – The governments of Canada and Quebec announced an investment of more than $63 million for 22 new projects by the Réseau de transport de Longueuil (RTL) under the Public Transit Infrastructure Fund. The Government of Canada will provide more than $35 million for these projects, and the Government of Quebec will contribute over $28 million. The Autorité régionale de transport métropolitain will provide the remaining funding.
The projects made possible through this contribution include the purchase of 38 hybrid buses, which will be used to replace buses that are at the end of their useful life. Dedicated bus lanes and priority measures for buses at traffic lights are also planned. The financial contribution will also fund display panels and voice announcements in buses to alert riders of upcoming stop information.
"The Government of Canada is investing in projects that help build sustainable communities while promoting economic development and the growth of the middle class. I am very pleased that these investments will help the RTL improve travel times through dedicated bus lanes, reduce greenhouse gas emissions through the purchase of hybrid buses, and enhance riders' overall experience with information systems. These projects will prepare Brossard‒Saint-Lambert, as well as the entire region of Montérégie, for future growth," said Alexandra Mendès, MP for Brossard‒Saint-Lambert, on behalf the Honourable Amarjeet Sohi, Minister of Infrastructure and Communities.
Once completed, these projects will improve the performance, efficiency and reliability of Longueuil's transit system, make it more inclusive, and meet the community's immediate needs while preparing for anticipated future increases in ridership.
Quick Facts
These 22 projects are in addition to the 34 previously announced for the Réseau de transport de 

Longueuil

 (RTL) under the PTIF program. The announcement on 

July 6, 2017

, highlighted an investment of more than 

$62.4 million

 by the governments of 

Canada

 and 

Quebec

.
The governments of 

Canada

 and 

Quebec

 are today announcing funding totaling of more than 

$90.9 million

 for 33 projects that will benefit public transit users on Montréal South Shore. In addition to the 22 projects mentioned in this press release, 11 projects by the Réseau de transport métropolitain will be able to go ahead. The federal government will invest up to 

$50,530,098

 in these 33 projects through the PTIF program, and the province will provide 

$40,424,078

 in funding.
The Government of 

Canada

 will provide more than 

$180 billion

 in infrastructure funding over 12 years for public transit, green infrastructure, social infrastructure, transportation that supports trade, and 

Canada's

 rural and northern communities.
To support public transit, Budget 2017 is allocating 

$25

.3 billion. This amount includes $5 billion that will be available for investment through the Canada Infrastructure Bank.
Over the next ten years, the Government of 

Quebec

 plans to invest more than 

$91.1 billion

 from the province's infrastructure plan in health, education and transportation, in order to improve families' quality of life and create conditions that support innovation and economic growth.
SOURCE Infrastructure Canada