Are you one of Canada's Top Contractors?
By Adam Freill
Construction
Leadership
It's time to fill out the survey for the 2023 edition of On-Site's Canada's Top Contractors special report.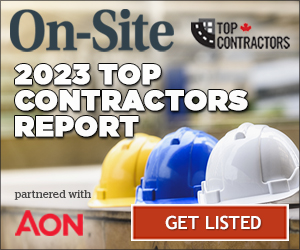 One of On-Site Magazine's most popular sections in just around the corner, but we need your participation to make it the best one yet. On-Site's Top Contractors Report is dedicated to determining the leading general contractors in Canada's construction industry, as ranked by revenue. It is an invaluable industry tool that is based on direct research from the companies involved and is used throughout the industry to research and source leading contractors.
Forty (40) companies make the Top Contractors list; an additional five (5) earn recognition as the biggest with under 50 employees; and all qualifying general contractors receive a complimentary company business listing identifying their scope of work. The 2023 edition of this invaluable industry document will be published in the June edition of On-Site.
Company rankings are arranged by reported or publicly available revenue figures associated with work conducted within Canada. Participation is open to all Canadian companies as well as international companies who have a significant presence in Canada's general contracting community. This should include a significant Canadian-based workforce and a physical office in an industrial or commercially zoned structure within Canada.
Also included in the report is a focus on Canada's smaller contractors. Companies with up to 50 employees will be included in our Top 5 under 50 section, with rankings based on self-reported revenue or construction volume managed(in Canadian dollars).
General contracting companies that do not find themselves on either of the ranked lists can still participate in the report, as their answers to questions about the industry will help with the accompanying industry analysis, so we encourage all companies to fill in a survey. And all qualifying companies will receive a corporate listing with general contact information and a list of their areas of expertise. This directory section is open to all qualifying general contractors in Canada, regardless of size or revenues, and is an invaluable resource for owners, developers and other construction stakeholders looking to identify Canada's top contractors. As always, these listings are entirely free.
To participate in the rankings, and/or to receive a free listing in the special section, general contractors are invited to fill out our 2023 Top Contractors Survey. This year's deadline is Friday, May 5, 2023.
We look forward to seeing you in our pages.