40U40 Deadline Extended!
By Adam Freill
Construction
Leadership
The deadline for On-Site magazine's 40 Under 40 in Canadian Construction has been extended to Friday, September 30.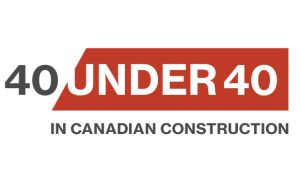 The clock is ticking for nominations to be received for On-Site magazine's 40 Under 40 in Canadian Construction section, but with September being a busy month for many, we've extended the deadline by an extra week. Nominations will now close on September 30.
The program, presented by On-Site magazine and SitePartners, recognizes exceptional, progressive, and innovative young leaders within and supporting the construction sector in Canada. Nominees may work directly for firms engaged in construction, or that provide services to Canadian construction companies. We want to put a spotlight on the young leaders who are progressively driving the construction industry forward in Canada, and we are asking for your help to do so.
A panel of judges will select winners based on professional achievements, innovation, leadership, and community involvement. And each of the 40 will be profiled in the December 2022 issue of On-Site magazine.
Self-nominations are permitted with supporting references, and all nominees must be residents of Canada currently working in construction in Canada, and 39 years old or younger on December 31, 2022.
Nomination forms and additional details are available at https://site40under40.ca. Again, nominations close on September 30, so please don't delay.
Thank you for helping us encourage the great work being done by these emerging leaders.