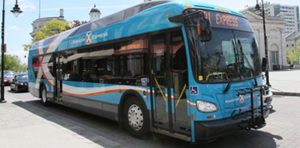 Mark Gerretsen, Member of Parliament for Kingston and the Islands announced 12 newly approved projects that will benefit Kingston under the Public Transit Infrastructure Fund (PTIF). The federal government is providing up to 50 per cent of funding for these projects—just over $6.8 million.
Planned transit improvements will make getting around the city easier, faster and safer for transit riders. A total of 25 buses will be purchased, 18 of which will replace buses that have reached their life expectancy and the addition of 7 new buses will help expand the Express service and improve service on other routes during peak hours. Riders will also benefit from upgrades to bus stops and new transit shelters, making the daily commute more comfortable. Also, the installation of on-board camera systems will increase passenger safety and security.
"The Government of Canada is working closely with the Government of Ontario and municipalities to invest in important transit initiatives that will strengthen communities across Ontario by growing the middle-class, fostering long-term prosperity and getting Canadians to their daily activities on time and home at the end of the day. The 12 projects announced today will ensure that Kingston has affordable and efficient public transit infrastructure that meets the needs of Canadians now and for generations to come," said Mark Gerretsen, Member of Parliament for Kingston and the Islands, on behalf of the Honourable Amarjeet Sohi, Minister of Infrastructure and Communities.
In addition to these projects, MP Gerretsen and MPP Kiwala also announced that 38 public transit projects will benefit 15 other communities across Ontario.
This investment is part of an agreement between Canada and Ontario for the Public Transit Infrastructure Fund.

SOURCE: Government of Canada