New legislation has just been introduced supporting increased use of apprentices on infrastructure projects procured by the federal government.
Recommended changes to the Department of Public Works and Government Services Act are included in Bill C-227 introduced by Toronto area MP Ahmed Hussen.
"The inclusion of apprenticeship and training requirements in federal infrastructure procurement shows the Government of Canada is serious about leadership in building the workforce of tomorrow," says Hussen.
"This legislation is an important step in making sure the upcoming infrastructure investment in Canada gets maximum value for the economy," says Robert Blakely, Chief Operating Officer with Canada's Building Trades Unions (CBTU).
"Apprenticeship is a solid career pathway and if every publicly funded project requires apprentices we will produce the generation of skilled trades professionals that will replace an aging workforce."
"We need skilled people to do the sort of work we do, there aren't enough of them," adds Tim Flood, outgoing Chairperson of National Construction Labour Relations Alliance (NCLRA)  and President of Flood Construction  "If local infrastructure projects were guaranteed to produce apprentices and get young people to progress in the skilled trades, we will have a pool of talent to choose from and to rely on across the industry in the future."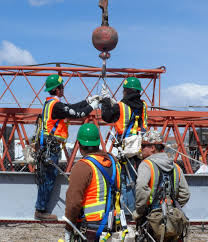 "As a contractor we support apprenticeship and we train people, says Tony Fanelli incoming chairman of the NCLRA and Vice President at Bantrel Constructors. "The inclusion of training requirements on infrastructure projects is a good thing and it will be equally beneficial to communities where the work is done."
Canada's Building Trades Unions is an alliance of 14 building and construction unions that represent a membership of more than 500,000 skilled tradespeople across Canada. The National Construction Labour Relations Alliance represents a group of construction employers in collective bargaining across the construction industry.