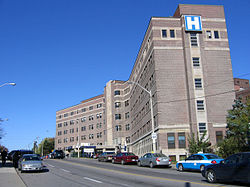 Infrastructure Ontario (IO) and Michael Garron Hospital (formerly Toronto East General Hospital), a division of Toronto East Health Network, have issued a request for proposals (RFP) to three companies to design, build and finance the new patient care tower project at the hospital.
Teams invited to submit proposals were selected based on their design and construction capability, experience, and the financial capacity to deliver a project of this size and complexity.
Based on a fair and open request for qualifications process that began in June 2016, the following companies have been invited to submit formal proposals:
EllisDon Infrastructure Healthcare (EDIH)
Design Build: EllisDon Design Build Inc.
Design Team: B+H Architects and Diamond Schmitt Architects
Financial Advisor: EllisDon Capital
PCL Partnership
Design Build: PCL Constructor Canada Inc.
Design Team: Parkin Architects Limited and WZMH Architects
Financial Advisor: TD Securities
Walsh Toronto East Health Partners
Design Build:

Walsh Canada

Design Team:

Perkins

+ Will and Cumulus Architects
Financial Advisor: Walsh Infrastructure Canada Ltd.
Teams will have approximately six months to prepare RFP submissions. Once the submissions are received, IO and Michael Garron Hospital will evaluate them and select the successful bidder. The winning bidder is expected to be announced in November 2017, with construction expected to begin in early 2018.
The project involves the construction of a new eight-story patient care tower and three-story podium, as well as demolition of some existing wings and selected renovations to the existing hospital at the connection points. Approximately 550,000 square feet of the hospital will be redeveloped, including:
Replacement of the oldest beds in the medical/surgical and rehabilitation units
Replacement of the mental health inpatient units for adult and child/youth care
Consolidation of ambulatory care and ambulatory procedures
Creation of two levels of underground parking and a new main entrance
Accommodation of other administrative and support services needed to support the clinical services
The project also involves renovation of approximately 100,000 square feet of select areas within the existing hospital.