Ask any operator, and they will tell you: everyone has a favourite piece of equipment. There are lots of factors that contribute to one's fondness for a specific piece of machinery, but its most often related to comfort, familiarity, and efficiency.
According to leading equipment manufacturers, power, maneuverability in tight spaces, and intuitive controls, are the most common features that contractors love about their machines. Cab comfort, visibility, and the ability to use equipment in the winter for snow removal are also big sellers.
We took a closer look at six of the industry's most popular machines to find out why contractors love them.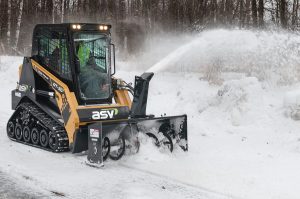 Company: Wacker Neuson
Model: WL32 articulated wheel loader
Features: With an operating weight of 7,496 lb., this model has evolved since its original release in 2007. It includes a slow speed and travel kit, which allows the operator to keep the engine speed up to enable maximum hydraulic flow, while at the same time moving very slowly as required.
Why contractors love it: While it is a year-round machine, its primary use in Canada is for snow removal applications. Operators like that it offers exceptional visibility while clearing snow, quiet operation, ability to operate in confined spaces, quick travel speed compared to conventional skid steers, and a nice comfortable cab for extended use.
Company: Caterpillar
Model: 259D compact track loader
Features: Originally released in 2010, the 259D has evolved over the years. It is a mid-frame sized track loader with 74 hp engine that delivers a power dense performance. Standard 2-speed travel increases productivity by making job sites quick and easy to navigate. When combined with a range of Cat Work Tool attachments, the machine's versatility can be expanded.
Why contractors love it: Versatility is why contractors love this machine. The auxiliary hydraulic system, either standard flow (20 gpm) or high flow (30 gpm), allows the machine to be combined with performance matched hydro-mechanical work tools to expand its productivity and versatility for an even wider variety of tasks and applications.
Company: Toro
Model: Toro Dingo TX 1000 compact utility loader (CUL)
Features: This most recent addition to the Dingo lineup, is also the most powerful. The unit has a rated operating capacity exceeding 1,000 lb. When the loader arms are fully extended, the hinge pin measures 81 in. from the ground to allow the TX 1000 to easily reach over the side of dumpsters and one-ton trucks to maximize jobsite productivity. Also unique to the industry in this category is the verticle lift loader arm design, which keeps the load closer to the machine to allow operators to lift more weight with greater confidence.
Why contractors love it: Apart from realizing the benefits of a machine that's both maneuverable and powerful, operators like that it includes effortless and intuitive controls, a high-drive track system that ensures the machine withstands demanding site conditions, and the stand-on platform for the operator, which allows for excellent visibility when reversing.
Company: John Deere
Model: 333G compact track loader
Features: The 333G is the biggest machine in the John Deere compact equipment lineup. It has 100 hp, a rated operating capacity of 3,700 lb, and a tipping load of 10,570 lb. The original model, the 333D, was released in 2010. The next evolution of the 333D was the 333E, which was released in 2012. The 333G debuted in 2016. Building upon the historical D series model, the 333G is more powerful, can lift and push more weight and has higher horsepower than its predecessors.
Why contractors love it:  Contractors love this model because it's extremely productive and cost-effective. It moves a tremendous amount of dirt – anywhere from 5 to 20 per cent more than other industry models. What's more, the 333G costs 19 to 52 per cent less to own than top industry competitors in terms of maintenance.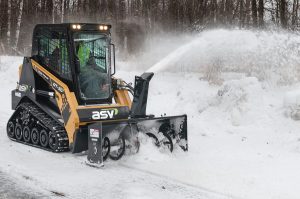 Company: ASV Holdings Inc.
Model: Posi-Track RT-30 compact track loader
Features: With an operating weight of 3,600 lb., the RT-30 has evolved tremendously since its original release in 1998. It has been upgraded with high-quality components, such as high-torque stainless steel hose clamps and a Perkins engine. The largest area of improvements is in the machine's undercarriage. It was originally a closed-track design, but now all of the company's machines have an open-rail, drive-sprocket design. This lengthens the sprocket and bogie life, and the open-rail design makes it faster and easier to clean.
Why contractors love it:  Contractors and rental centres love the RT-30 because it's a commercial-quality, compact machine that works in tight spaces for a variety of applications, from landscaping and snow removal to construction. This saves on costs in limited-space applications that would otherwise require manual labour. Despite its size, the RT-30 is not an entry-level machine. It's built with the same durability, efficiency and serviceability as larger ASV models. It offers a safe and more productive alternative to similarly sized walk-behind and stand-on mini skid-steer loaders.
Company: Takeuchi
Model: TL8 compact track loader
Features: The most recent version of the TL8 is heavier and offers more horsepower and operating capacity than its predecessors. Auxiliary high-flow hydraulics and 15.7-in.-wide track design are available as an option. Telematics, or Takeuchi Fleet Management is now standard for two years and available after for a small monthly fee.
Why contractors love it:  Contractors and rental companies love its size and weight. It has an excellent power to weight ration for so many different types of jobs. At 8,500 lb. and 5 ft. 5 in. wide without the bucket, it is easy to haul from one jobsite to the next.
Corinne Lynds is editor of On-Site. Send comments to editor@on-sitemag.com.