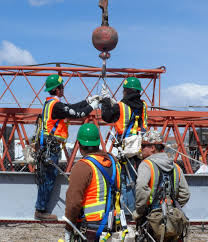 The Labourers' International Union of North America has joined the Coalition of Non-Compulsory Construction Trades of Ontario, adding to the seven other major construction unions that stand united in support of Schedule 17 of Bill 70, which will dramatically improve the Ontario College of Trades and ensure that it can fulfill its mandate.
"Schedule 17 of the Bill will finally put to rest a number of issues that have hamstrung the College's ability to actually fulfill its mandate of modernizing the trades and attracting more youth into exploring the skilled trades as a long-term career option," said Joseph Maloney, international vice president for Canada of the Boilermakers union.  "The addition of LiUNA and its 90,000 members across Ontario as member of the CNCCTO, sends a strong signal of how important the Bill is to working people across the province."
"Although we may have different interests, we share a very strong consensus with the most important aspects of this Bill," noted Joseph Mancinelli, international vice president of LiUNA. 
The proposed changes contained in Schedule 17 are the result of not one, but two in-depth and independent reviews conducted by Senator Tony Dean (former Secretary of Cabinet and Deputy Minister of Labour) and Chris Bentley, a former Minster of Labour and Attorney General.  "It's time to move forward," noted Maloney.
SOURCE Coalition of Non-Compulsory Construction Trades of Ontario