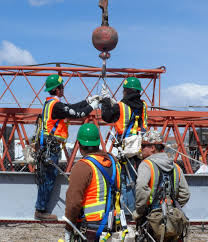 With almost one million job openings anticipated between now and 2025, British Columbia wants to encourage employers to sponsor apprentices and help build and expand the province's skilled workforce to meet this growing labour demand.
One way to achieve the workforce required now and into the future is through skilled trades training. An apprenticeship is one of the best ways for British Columbians to gain those necessary skills for in-demand jobs, and is a combination of on-the-job training and classroom learning. It provides the opportunity to start in the workforce and get a paycheque, while learning a trade.
The Government of British Columbia has worked hard to improve the apprenticeship system within the province and across the country. B.C. played a key role in establishing and implementing a Provincial-Territorial Apprentice Mobility Agreement in January 2016. This agreement gives apprentices greater recognition of their training, work experience and examination results when they move between provinces or territories in Canada.
In addition, the Forum of Labour Market Ministers, or FLMM, is working toward a goal of harmonizing apprenticeship training in 30 Red Seal trades in most jurisdictions by 2020.
The B.C. government has extended its Training Tax Credit program to 2017, giving refundable tax credits to employers who hire apprentices, and providing apprentices with personal income tax credits.
For the apprenticeship system to continue to grow and be successful, more employers are needed to become apprentice sponsors. Employers are central to apprenticeships, as employer sponsors throughout the province are the ones who are hiring, training and giving B.C.'s apprentices a chance to succeed in the future.
For employer sponsors like Steve Hegyi, there is a simple reason to hire apprentices. He wants his 35-year-old Kamloops business to remain successful.
As president of Hegyi Refrigeration and Mechanical, Hegyi sees the value of training apprentice mechanics. Among the many benefits is the ability to train future employees.
"You're able to teach them the methods that you used that have been successful, so they're able to become better mechanics in the future," Hegyi says. "After they've done the apprenticeship, you have a key employee who knows your business, knows your customers and is able to maintain your service standards."
Sponsoring an apprentice is a key way for employers to guarantee they have skilled, prepared workers to meet future labour demands.
According to the Canadian Apprenticeship Forum, for every dollar an employer invests in apprenticeship training, there is an average return on investment of $1.47.
But the benefits of hiring an apprentice go beyond financial reasons. As Hegyi points out, it is about succession planning and training high-quality workers who fit within an employer's organization and culture.
Peter Steunenberg, general manager of Solid Rock Steel in Surrey, is a firm believer that apprentices are essential to the success of his 50-year-old company.
"We employ metal fabricators in the shop and steel fabricators in the field to install our steel, and we found that the best workers we can get are apprentices who have gone through the ITA (Industry Training Authority) training," Steunenberg says.
You can find out more about Hegyi, Steunenberg and other employers who hire apprentices at: http://www.championsofapprenticeship.ca/
As of November 2016, there were 10,305 registered employer sponsors of apprentices in B.C., up 4% since the release of B.C.'s Skills for Jobs Blueprint in 2014.
The number of employer sponsors in B.C. has increased for four consecutive years, thanks in part to the ITA's innovative approaches to reaching more employers. For example, in fall 2016 the ITA launched its first online employer recruiting campaign that includes videos, webpages, links to resources and advertising.
In partnership with the ITA, the B.C. government has taken the following steps to help more apprentices achieve their trades credentials and help meet B.C.'s labour market needs to 2025:
Established 11 sector advisory groups – composed of industry representatives – to provide advice to the government and ITA on matters key to ensuring an effective and responsive skills training system in B.C.
Enhance the direct supports provided to apprentices and employers through regional apprenticeship advisors, a centralized customer support team, apprenticeship completion initiatives and industry relations managers.
Administer surveys to better understand outcomes of apprentices who leave training programs early and use the results to inform targeted activities.
Pilot innovative training programs that enhance apprentice training experiences and better meet an employer's needs.
Align apprentice program requirements throughout Canada to improve apprentice mobility.
Implement screening mechanisms throughout Canada to improve apprentice mobility.
Implement screening mechanisms to ensure the right people are in the right program.
Develop and implement outcome targets and accountabilities for public and non-public trainers.
Increase trades training opportunities for youth to support successful transition to apprenticeships.
In 2016, the ITA also formed partnerships with the B.C. Chamber of Commerce, Kamloops Chamber of Commerce and Prince George Chamber of Commerce to promote and educate businesses about the benefits of sponsoring apprentices.
Quotes:
Shirley Bond, Minister of Jobs, Tourism and Skills Training and Minister Responsible for Labour –
"We are expecting almost one million job openings in B.C. by 2025. Our investments through the Skills for Jobs Blueprint specifically target high-priority trades, so we can ensure that we have the workforce necessary for our growing economy. Hiring apprentices is a great commitment on the part of employers, but the rewards are well worth the time and effort, for both the employer and apprentices. Sponsoring an apprentice is a smart and vital way for employers to guarantee there are skilled, prepared workers able to meet future labour demands in every region of B.C."
Gary Herman, CEO, Industry Training Authority –
"Employer sponsors are an integral part of the apprenticeship system in B.C. Eighty per cent of trades training is attained in the workplace, so without the employer sponsors, apprentices would not be gaining the necessary skills and knowledge to achieve certification. Apprenticeship is beneficial for the apprentice, employer and the community. Employers have the opportunity to hire and train the apprentices to suit their business needs, while apprentices have the chance to earn while they learn. We are proud of all apprenticeship champions across the province, securing their workforce and doing their part to further strengthen the trades industry in B.C."
Quick Facts:
There are nearly 39,000 registered apprentices in the industry training system (including youth), more than double the 14,676 apprentices registered when the ITA was created in 2004.
ITA awarded over 7,600 Certificates of Qualification ("tickets") to journeypersons in B.C. last year.
ITA provides more than 100 apprenticeship training programs in B.C., including 50 Red Seal trades.
B.C. is expecting up to one million job openings by 2025 due to retirements and economic growth.
Eight of every 10 of these job openings will require post-secondary education or trades training.
Learn More:
Industry Training Authority: http://www.itabc.ca/
B.C.'s Skills for Jobs Blueprint : https://www.workbc.ca/Training-Education/B-C-s-Skills-for-Jobs-Blueprint.aspx
B.C. Labour Market Outlook: www.workbc.ca/Labour-Market-Information/B-C-s-Economy/Reports.aspx