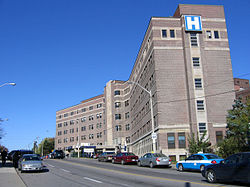 Infrastructure Ontario (IO) and Michael Garron Hospital (formerly Toronto East General Hospital), a division of Toronto East Health Network, shortlisted three companies to design, build and finance the new patient care tower project at the hospital.
Based on a request for qualifications process that began in June 2016, the following companies were shortlisted:
EllisDon Infrastructure Healthcare (EDIH)
Design Build: EllisDon Design Build Inc.
Design Team: B+H Architects and Diamond Schmitt Architects
Financial Advisor: EllisDon Capital
PCL Partnership
Design Build: PCL Constructor Canada Inc.
Design Team: Parkin Architects Limited and WZMH Architects
Financial Advisor: TD Securities
Walsh Toronto East Health Partners
Design Build:

Walsh Canada

(

Walsh

)
Design Team:

Perkins

+ Will and Cumulus Architects
Financial Advisor: Walsh Infrastructure Canada Ltd. (WIC)
The project involves the construction of a new eight-story patient care tower and separate three-story connection, as well as demolition of some existing space and renovations to the existing hospital. Approximately 550,000 square feet of the hospital will be redeveloped, including:
Replacement of the oldest beds in the medical/surgical and rehabilitation units
Replacement of the mental health inpatient units for adult and child/youth care
Consolidation of ambulatory care and ambulatory procedures
Creation of two levels of underground parking and a new main entrance
Accommodation of other administrative and support services needed to support the clinical services
The project also involves renovation of approximately 100,000 square feet of select areas within the existing hospital.
The redevelopment project will enable the delivery of efficient, accessible, high-quality patient care, while replacing some of the oldest spaces in the hospital.
"We're really looking forward to working with these exceptional teams on the next stage in our redevelopment journey. Our project, which includes the Ken and Marilyn Thomson Patient Care Centre as well as renovations to the existing facility, will help Michael Garron Hospital to continue providing exceptional care, treatment and support to residents of the east Toronto for generations to come," said Sarah Downey, President and Chief Executive Officer, Michael Garron Hospital.
Quick Facts
IO and the Ministry of Health and Long-Term Care are working closely with Michael Garron Hospital to redevelop the hospital, which will remain publicly owned, controlled and accountable.
The project is expected to achieve a Leadership in Energy and Environmental Design (LEED®) Silver certification for design excellence and sustainability.
The project is being delivered using IO's Alternative Financing and Procurement model, an innovative way of financing and procuring large, complex public infrastructure projects, with a track record of being 98 per cent on budget to date.