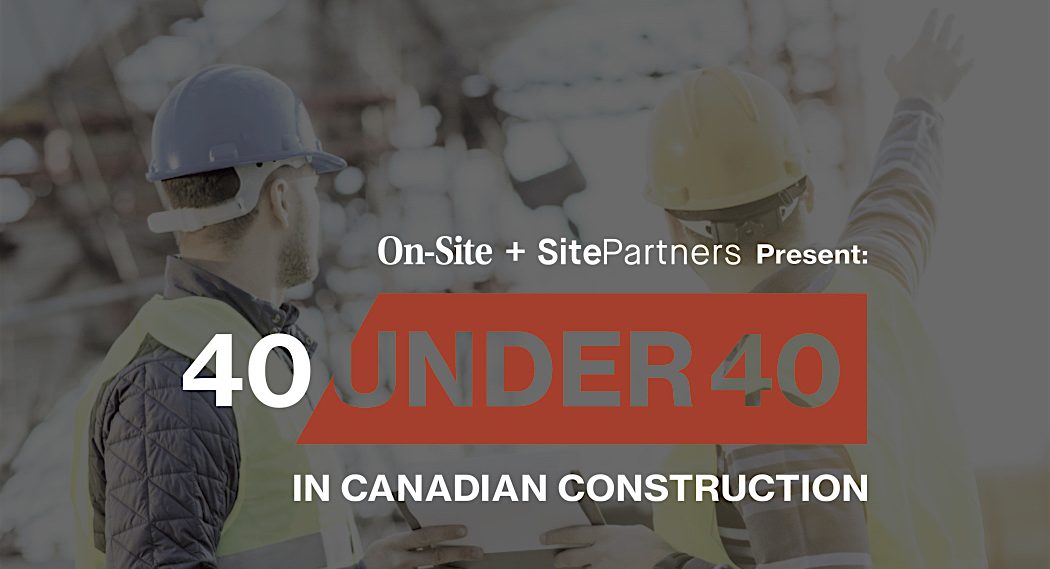 Top 40 Under 40 in Canadian Construction: Rising leaders in our industry
What does it mean to be recognized in this third edition of the Top 40 Under 40 in Canadian Construction, as presented by On-Site Magazine and SitePartners? The 40 individuals in this special section are our industry's young leaders. They are the innovators and professionals who have vision within their companies, as well as beyond their own walls. They are the top minds who are working to help shape the future of the construction sector in Canada, and they are doing so with purpose.
As you will read, each brings a unique set of experiences and skills to their role, but they all share a common trait regardless of where in the country they work or the specific job they fulfill. Each of these 40 individuals share a motivation that pushes them to aim ever higher.
Whether they are a business owner, engineer, executive, trades professional, software developer, legal professional, researcher, or any of the other roles you can find among the 2022 honourees, their ability to execute their vision is what is going to keep the industry moving forward
We are proud to highlight these talented individuals, and we hope that their stories will help influence others in our industry. Congratulations to all the honourees in the 40 Under 40 in Canadian Construction, Class of 2022.
See you in 2023
Watch this page on our site for details about next year's 40 Under 40 in Canadian Construction nomination process when we will once again be looking to recognize emerging leaders who have not only earned professional achievements, but are also bringing innovation, leadership, and community involvement to their companies and the industry at large.
When the nomination period opens, we will welcome you to put colleagues and peers forward for recognition who are:
Residents of Canada and currently working in construction in Canada.
39 years old or younger on December 31, 2023
We look forward to seeing your nominations next year.
---
Learn how our Top 40 Under 40 are reshaping the industry:
For mobile users, click here for to view a mobile-friendly version of the Top 40 Under 40.
---